For What I Stand
Jostens Renaissance Back to School Tour inspires student leaders in Michigan to take a stand for their beliefs
Student leaders from all around Michigan rallied in the stands of the Breslin Center at Michigan State as motivational speaker Mike Smith expressed his own beliefs and shared his own life experiences during Jostens Renaissance Back to School Tour.
Smith, according to the Jostens Renaissance website, is a youth speaker who inspires students all around the country to make positive choices in their communities and to pursue their passions and dreams to leave their mark on the world.
Kyle LaHie, seventh-grader at Grand Blanc West Middle School attended the event with his school, and he is already doing what he can to leave a positive impression in his own community.
"I became a blueberry ambassador," LaHie said. "It's like a group of students and kids that, like, go around and do kind deeds and random acts of kindness for people that are in need of help. I started in fourth grade and I've kept on doing it until seventh grade. My mom's a teacher and she's had cancer this past year, so I've kind of wanted to help people a lot. Like, there's other people outside of school that really need help."
Smith tells the student leaders that all he cares about is a person taking the thing they love and using that to help somebody.
"That's what leadership is," Smith said. "That's what it's all about."
Smith stated that he doesn't judge people on what people do, if a person has or doesn't have good grades or what a person looks like.
"If you judge somebody on what they look like, you could miss out on what they could be all about," Smith said.
In saying this, Smith encouraged many students to think about what they could do to include everyone in their own schools.
Ali Delau, an 11th grader from Perry High School, thought that a good way to include people in her school would be to paint ceiling tiles in classrooms, paint parking spaces or even make a bulletin board with student's and staff's birthdays posted on it.
"Personally, my school has minimal school spirit," Delau said. "I feel like many people are left out, so these little things may be enough to include those who feel invisible."
During his speech, Smith pointed out that, while he was in high school, he realized that there are three types of people in the world: the wishers, the talkers, and the do-ers.
The "dreamers," according to Smith, are going to spend their whole life, or decades of their lives, wishing that their life would look a certain way.
"You're going to follow people you wish you looked like," Smith said. "You're going to follow blogs with adventures you wish you could take. You will literally spend your life wishing someone will step into your life and change your world so your life could be different."
The "talkers," he said crack him up, because they always tell people that they are going to do incredible things, but never actually go through with it.
"We all have this friend that tells about the big things they're about to do, and we know they ain't doing anything," Smith said. "They just talk, and they talk, and they talk, and they get some weird satisfaction out of just telling you that they're going to change these things even though they're terrified to even try."
The "do-ers," on the other hand, Smith believes that this group of people are the ones that chase after their dreams and ambitions and fight for what they believe in. This is the group that Smith believes to do incredible things.
"Once you actually go out and do incredible things, you already know it's going to cost you something," Smith said. "It will cost you something. People won't understand you. It will cost you friendship. It's going to cost you trying hard when everyone else isn't. It's going to cost you making a right decision when everyone else is making a wrong decision. It's going to cost you waking up early. It's going to cost you staying up later. Literally being the kind of person who does something incredible will cost you something. And I told myself, I'm not going to waste my life wishing or saying. I'm going to go do incredible things."
Smith's words made students think about the type of person that they want to be, if that is not who they are already.
Brionna Lovejoy, a 10th grader at University High School Academy who claims to recognize who she used to be and what kind of person she is becoming.
"In all honesty, I used to be a wisher," Lovejoy said. "But recently, I've been doing things like speaking my mind and saying what I mean. I guess because just seeing the state of the world now, and what people do to each other."
Leave a Comment
About the Contributors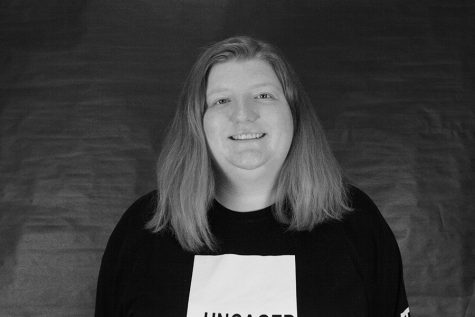 Emma Lockhart, Editor-in-Chief
I received an invitation to join the newspaper in my ninth grade year around scheduling time. This opportunity led to an experience I never even thought...