Chicken watch: Hatch day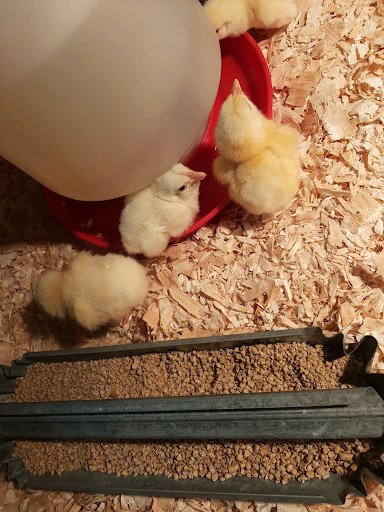 Which came first, the chicken or the egg? The box, in this case! In Timothy Salow's agriculture class, some new classmates have joined, and they're not like the others. Twenty-five baby chickens have been introduced to the class to be studied this semester. 
Through Future Farmers of America (FFA) and Townline Hatcheries, these chickens were brought to Stockbridge along with hundreds of other agriculture classes across the country. This breed, called a Ross 708, are meat birds designed specifically for learning opportunities for students in agriculture classes and similar classes, as well as competition.
"We will raise them for about 7 weeks, get them plumped up and then take them to competition in November," Kalysta Connolly, a student in the class, said.
"Chickens are a very short project, so it's easy to do in school," Salow said. "They're about a 7 week turnaround." 
The chickens, which will be staying at the student's houses for routine care, will be the biggest project of this semester. Students will learn about how to care for poultry, monitoring their growth and development, and learning about their anatomy and physiology. 
"They provide us with all of the biological functions to have, so they have circulatory, respiration, nervous system, disease, care, nutrition, and handling," Salow said.
Chickens, given that they grow quickly, should be fully grown by the time the semester ends. This experience allows students to study the entire growth cycle of the chickens. 
Uncaged will be reporting more on this story as they begin to fly the coop.
Leave a Comment