Take a hike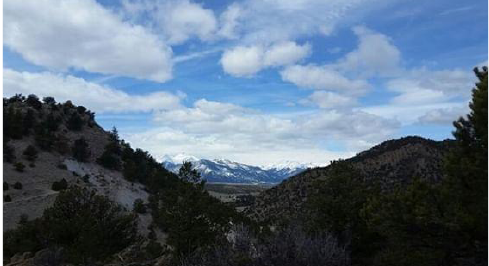 SALIDA, COLORADO-We started where the Chalk Creek runs into the Arkansas River. On the hike beside Ruby Mountain up a trail, there is a point where the trail is right next to a little valley. At that point we got out the compass because we were going off the trail and straight down into the valley. Trying to get to the bottom was tough because it was almost a vertical descent. This is what Baylee Heidrich's hike consisted of: troubling paths but so much more.
Having the sun shine onto your skin and hearing nothing but the ruffle of leaves and the chirping and rustling of animals are the enjoyments of hiking. No matter your age, the sport is something to be enjoyed by everyone. With warmer months coming and the promise of warm weather, going outside does not seem so bad.
A local trail in Stockbridge, the Lakeland Trail, can be picked up right in town. About 27 miles long, stretching from Munith to Hamburg, the trail is great to get on at one of its 13 entry points and take a walk.
Notably, hiking has physical benefits. According to National Parks Service, "It improves your sense of balance and heart health, helps build stronger muscles and bones, and decreases the risk of certain respiratory problems." Hiking can help the body get stronger and healthier, something most teens want and need.
However, it also has emotional benefits. "Spending time outdoors can reduce stress, calm anxiety, and lead to lower risk of depression," according to a research done by Stanford University. Going outside and enjoying nature helps you physically and emotionally.
When going hiking you do not need much more than a pair of feet and a goal. The main supplies you would need when hiking on local trails are, "obviously a good pair of shoes, a base layer, depending on the season bug spray or sunscreen, a pack, socks and pants," according to a employee at Recreational Equipment, Inc., known as REI. This retail and outdoor recreation services corporation located in Ann Arbor, sells camping gear, travel equipment, clothing and sporting goods.
One thing that all hikers should know, "is how to read a map," according to REI. Teens in the Google age should learn how to read a map. It can help you understand where you are and how to get to the intended spot, making the trek easier and less stressful. You should always be on the lookout for the availability of phone service. Not every spot will have service, so making sure to have a map, compass or another way to track and find a location is vital.
According to REI, building layers simply means, "building insulation to help maintain body moisture," which can be helpful when trying to stay warm. Building layers, especially when its colder out, solves the problem. One way to layer is, "a light long-sleeve for a base layer, followed by a thin wool or polyester sweatshirt for a mid layer, followed by a jacket with a hood, topped off with a waterproof/breathable fabric with taped seams," according to Backpacker, a website designated to all things hiking.
Traveling to hike in the mountains is not unusual. Junior Baylee Heidrich spent her spring break hiking in Colorado at Brown's Canyon looking for Fenn's treasure, a chest hidden with millions of dollars worth of different art. Heidrich and her family spent about two hours on the trail. In her pack she had, "basically anything needed if lost, extra water, a compass, a flashlight, extra clothes and a pocket knife," Heidrich said. She and her family did not find the treasure but will be going again next year and to search again.  
While hiking you can enjoy nature and the animals living in it. Heidrich saw mule deer, bighorn sheep, rabbits and foxes while out. While the landscape was fascinating, Heidrich thought that the benefits were that she, "got to spend time with my family and we were away from everything else." They also ventured to Ruby Mountain where they found pieces of garnet, rise quarts and a weird black rock. One of the many advantages of going on a hike, getting and seeing nature's beauty.
You do not have to travel to the mountains to enjoy these perks of nature. So, next time the sun is out and you can make time, go to your local Lakeland Trail or Potawatomi Trail and take a hike. The real treasure will be spending time with friends or family and enjoying the outdoors. "Overall, it was great to spend time with my dad, and go for a wild goose chase for a hidden treasure," said Heidrich.

Leave a Comment