College admissions scandal makes students hesitate in college decisions
Students spend countless hours studying and practicing for test like the SAT because they believe they are the driving force to get them into their dream college. They loss time that could have been used enjoying their wonder years in exchange for information they might not even be able to remember on the day of their tests. The fact that they might not know what they need to know on the test day causes so much fear, but some thought they could bypass this.
That way of bypassing the fear and hard work lead to a college admissions test scandal where numerous college officials were bribed to give college applicants qualities that made them stand out at prestigious schools.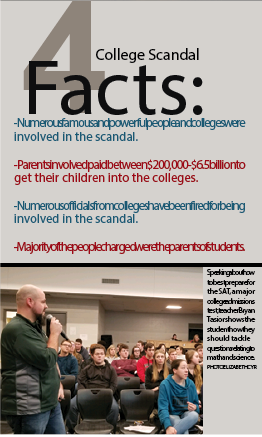 The lid was blown off the whole plan, and parents and officials got caught, resulting in the incident blowing up in their face.
In the recent college admissions scheme, eight universities have gotten wrapped up in the situation leading to 50 people being criminally charged and investigated. High scale and prestigious schools like Yale were tied up in these matters.
Well known celebrity parents such as long time actress Lori Loughlin (famous for acting on Full House) have a hand in these events. Specifically, parents like Loughlin are facing jail time for paying their choice colleges to get their children admitted to the college, sport coaches and athletes officials also had a hand in the criminal behavior.
"There were coaches and other officials in influential positions that were taking an opportunity away from a deserving student athlete for someone who did not meet the same criteria. Having money creates opportunities but should not supercede minimum standards and deny someone else their opportunity." Track coach Steven Allison.
The majority of American students have to take these standardized test the fair and honest ways, reducing them to study as many topics as possible in whatever way seems most helpful.
Students who take the honest route are angered and disappointed regarding the unfair nature of this scandal. "I think it is very unfair, and it takes away credibility from these prestigious colleges," sophomore Haley Gipson said.
The scandal has taken more than credibility away from colleges. Students who once visualized themselves attending these school are now experiencing hesitation. Junior Andrew Carriero has closely considered information surrounding a college to gauge how suitable it is for him.
"This college admissions scandal really makes me reconsider my college options with this situation," Carriero said "it shows some colleges like Yale value money over education."
Perhaps parents did this without their child's input, yet that does not change the fact that these applicants received an advantage way above numerous others who did not have the opportunity to get on their same level.
"All applicants connected to the cheating scam would be denied admission," Gary Polakovic, spokesman for the University of Southern California, told CNN. Karl Heidrich, school superintendent and college professor, said, "Families and students deserve as much equity and fairness as possible through the college admissions process."
Leave a Comment