Become a part of the movie industry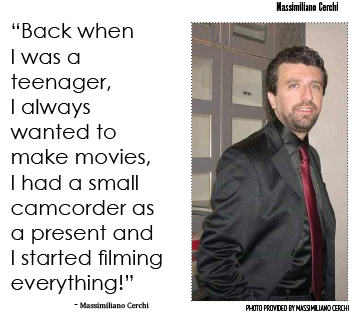 With the camcorder that he got for a present in hand, the young director-to-be traveled the beautiful roads of Italy, filming anything from soaring birds in the sky to the random faces around him. Learning every function on his new device and unlocking his natural talent as a movie producer, Massimiliano Cerchi knew that directing would become his new life. 
With his love for horror movies, he intently watched two movies per day, paying attention to every detail. At the age of eighteen, he traveled to the sunny east coast of America to study the film business in Los Angeles. Through 25 years of hard work, Cerchi's biggest accomplishment was producing two of his most recent movies: "Mayday" and "Lockdown." In both, he connected with people and hired actors and actresses that fit the roles he was looking for.
Whether it is acting in front of big cameras with blinding lights or directing behind them, like any other job, people make goals and work hard to get to where they want to be. Beginning acts should have the time to dedicate to their dream job, and—as any director, manager or agent would say—patience.
LEARN ACTING AND DIRECTING SKI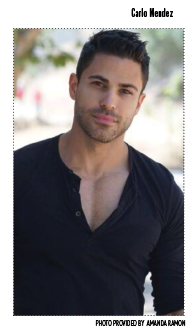 LLS
Agents and managers look for raw, yet sophisticated talent. So, it does not hurt young hopefuls entering the movie industry to strive for a full college education. Therefore, if students want a better chance of getting that acting or directing career, they should take advantage of what their school has to offer. According to Cerchi, "Going to acting school is always a good idea; it gives you the basic and then your inner talent will shine."
Participating in dramas and school plays show young actors and actresses a hint of how the world of acting works. If the talent has little experience, taking a college theatrical class would help. Even those that already graduated from high school, or did not finish at all, can still get experience by contacting local theatre companies and asking what is available.
GET INTO THE INDUSTRY
Most actors, actresses, and directors will tell anyone looking for the same career to get an agent. For actor Carlo Mendez, it took a lot of patience and determination until he found who he was looking for."I moved to LA after almost becoming a police officer," Mendez said. "When I drove out here, I started looking for acting classes then asked for recommendations for managers and agents." For Mendez, persistence pays. "I worked my way around and asked until I got a manager." For most roles, the only way to get an audition is through an agent, which could definitely take some time.
Even though networking is important, some people in the movie world would say it is more beneficial to be confident in getting out there and being noticed. However, others out there could say the more connections they know, the more chances they have of running into someone that could help. For Mendez, "Networking is important, but I think more importantly is being prepared and working hard toward my goals, constantly improving and challenging myself."

Leave a Comment