The art of craftivism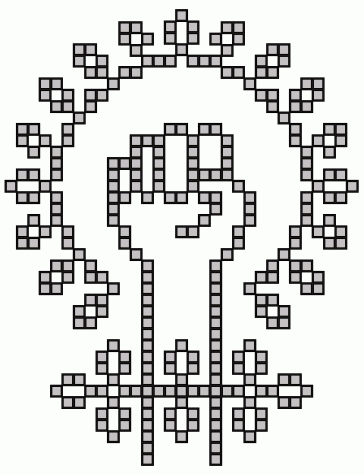 Men, women and children of all ages, ethnicities, and religious backgrounds packed around the capitol building on January 21, for the Lansing Women's March wearing the icon pink hats and carrying signs that expressed their political views about the election, women's rights and equality, through art and creativity.
Craftivism–creative activism–has become a peaceful and highly effective form of activism in the new year, uniting people from all walks of life to stand up for what they believe.
Craftivism is the practice of engaged creativity, especially regarding political or social causes, according to "Craftivism: The Art of Craft and Activism" by Betsy Greer.
Examples of craftivism took off during the Woman's March such as the Pussyhat Project and the We the People posters created by graphic designer, muralist and street artist Frank "Shepard Fairey," but the artform has been around for centuries.
Early forms of craftivism dating back to Gandhi and the American suffragettes can now be seen used in protests and rallies across the country, after recent decisions made in the government caused the country to rage.
"People are very violent these days," sophomore Samantha Argento said, "so, I think craftivism is a more subtle approach to expressing how they feel."
Knitting hats, drawing posters, painting murals, sewing cross stitch, fashioning clothes design, folding origami and even braiding friendship bracelets, craftivism comes in many forms.
"Craftivism to me is people's view on society," sophomore Austin Perkins said. "People are going to stand behind what they believe in, and everyone believes in something, so this is just a way to do that in a creative way." 
The Pussyhat Project, co-founded by Krista Suh and Jayna Zweiman, was intended to provide those in the Women's March a way to make a collective visual statement that would strengthen their activism and a way for people unable to attend the march a way to show their support for the cause. 
"
I was truly in awe of the creativity, wisdom and humor people put into their sign-making. The message was the same –protect human rights– but conveyed along a continuum as diverse and spectacular as the human race! I was especially fond of the ones that transformed our president's own ugly rhetoric into empowering statements and images. Signs were obviously a very important and concrete way people could express their deepest fears and hopes to the world. Also, there was singing, drumming, chanting and rousing poetic speeches. People wore clothing, the "pink pussy hat" included, to express their power and solidarity.
— Parent and activist Melinda Baird's thoughts on the art and creativity expressed at the Woman's March in Lansing, MI.
"I liked the use of craftivism during the Women's March," Argento said. "I feel like some of it was blown a little out of proportion, but I do see where they are coming from because I do think that women are seen as like toys, so I feel like their mindset was in the right place, but I don't think they had to go so far." 
Street artist and activist, Shepard Fairey, helped create iconic artwork for many political movements like OBEY and Obama's HOPE posters seen during his 2008 election, but his most recent efforts have been with the We the People Campaign, which was founded by The Amplifier Foundation and is "dedicated to igniting a national dialogue about American identity and values through public art and story sharing."
Fairey created posters to support the We the People campaign and helped show the diversity of the people living in America.  
"I really love how the posters are positive messages," English teacher, Alaina Feliks said. "I don't see how anyone can look at them and say, 'I don't agree with defending dignity or protecting each other.' I feel like when I look at social media, there is a lot of negative name calling and, 'My thing is better than your thing,' and really I love the idea that we have to figure out what do we actually stand for, like America is not about what we don't stand for. It's about what we do stand for and how can we come together."
Political statements about feminism were made during New York Fashion Week in designer Prabal Gurung's final showcase. 
Women walked down the runway wearing shirts with sayings such as "The Future is Female" and "We Will Not Be Silenced." Gurung himself wore a shirt that read "This Is What A Feminist Looks Like" to get across his political statement in a fashionable yet crafty form.
Craftivism lessens the need to take drastic measures, such as rioting, for change to take place.
"I also like the idea of young people becoming engaged," Feliks said. "The biggest portion of people in the electorate just didn't vote, didn't vote at all, in a really important, very close election, and to me it shows the importance of finding messages that lots of people can agree with."
Leave a Comment