All Inclusive
Inclusion guidelines for LGBTQ students, gender-segregated facilities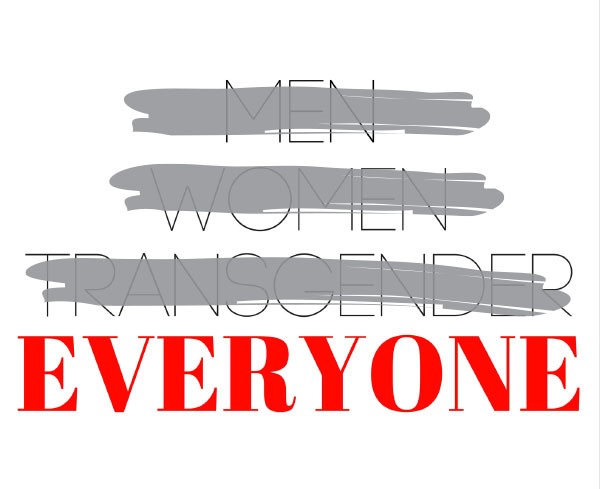 Every day is a battle, both internally and externally, a constant conflict between how they feel and how they look. Add to all this trying to decide exactly which bathroom to use.
Transgender students are among the smallest demographic in the lesbian, gay, bisexual, transgender and questioning community (LGBTQ), but are leaving a massive impact on Michigan legislation.  
According to Gary J. Gates, Williams Distinguished Scholar at UCLA School of Law, an estimated 3.5 percent of adults in the United States identify as lesbian, gay or bisexual and an estimated 0.3 percent of adults are transgender.
The Michigan State Board of Education Statement and Guidance on Safe and Supportive Learning Environments for LGBTQ students draft was created in February 2016 and was made public so concerned citizens could comment their thoughts through the month of April. The finalized legislation is now affecting schools throughout the state. The legislation set eight main goals it hopes to reach in providing the safety and educational opportunities and includes a guide of nine areas to support LGBTQ students, one being Guideline 5. Gender-Segregated Activities and Facilities.
Stockbridge resident, parent and president of Harper Electric, Brian Howard, recently worked on the construction of two transgender bathrooms at Community High school in Ann Arbor.
"The bathrooms were single-style bathrooms, kind of like a "family" bathroom you might see at a mall or similar venue," Howard said. "The doors were lockable and both styles of bathroom fixtures were in there, if you know what I mean."
Along with this, as recently as October 28, the Supreme Court has decided to hear the G.G. v. Gloucester County School Board case, in regard to a female to male transgender student and his rights to use the men's bathroom at his school. This case will set precedent that will go along with the inclusion guidelines adopted by each state.
"I'm not sure how to answer on my thoughts about this legislation, because I don't dislike anyone, but I don't agree or understand that lifestyle; I guess I'm just getting to be in an older generation," Howard said. "One thing I guess I should say is that when it comes to taxpayer dollars, I would hope that decision on spending money on things like this don't trump items which are definitely more important, like funding for arts, music or athletics."
The cost for the two bathrooms built in the Ann Arbor school was $75,000.
"This is a lot of money for such a small minority of students," Howard added.
With the remodeling of the school underway, there will be an addition of new bathrooms labeled boy, girl and unisex. According to principal, Richard Cook at this time the locations of the bathrooms has not yet been decided.
"It is very important to create the most inclusive, welcoming and supportive school environment possible," Cook said. "In the end, we support all students as individuals to create the best school culture we can. We are always looking for ways to improve that culture."
Students varied from indifferent to supportive in response to unisex bathrooms.
"It wouldn't bother me if we built transgender bathrooms in our school," junior Stephen Gipson said.
Junior Katelyn Meitz thinks that the addition of transgender bathrooms would be beneficial,
"There are probably several students in our school that are transgender, but are undercover, so I think that would be really cool."
There is currently a bathroom for transgender students to use.
"The bathroom is located in student services and students can set up to use this bathroom at the beginning of the year," said superintendent Karl Heidrich. "With regards to the bond we hope to continue to expand the resources to those of the LGBT community. I think it is very important to have a supportive school environment and to have a culture that is inclusive, and we will continue to work towards that."
Leave a Comment