Stopping substance abuse
CADCA National Youth Leadership Initiative
Masses of people from all over the country packed into a conference hall waiting to hear anti-drug advocates like CEO General Arthur T. Dean. Students, parents, activists and coalition leaders from all around the globe join every year to help put a stop to the use of drugs and alcohol in youth. In a week-long program, adults and teens learn more about how to stop the illegal use of substances in their own communities.
According to their official website the Community Anti-Drug Coalitions of America (CADCA) Mid-Year National Youth Leadership Initiative (NYLI) is "student led, adult guided" and focuses on the creation of young leaders who are willing to make a positive impact in their community including: preventing drug use in and outside of school, stopping parents from allowing their kids and friends to use drugs inside the home, looking for drug deals and getting help to stop them.
"The NYLI's main goal is to help youth strengthen their leadership characteristics, be trained in understanding how to approach problems, develop solutions and maintain the results,"  Ian Solnosky, youth program associate at CADCA, said. "At a more in-depth level, we also strive to help them become more culturally competent, have more courage, practice with public speaking and presenting and exercise their innovation when considering new ideas and interventions."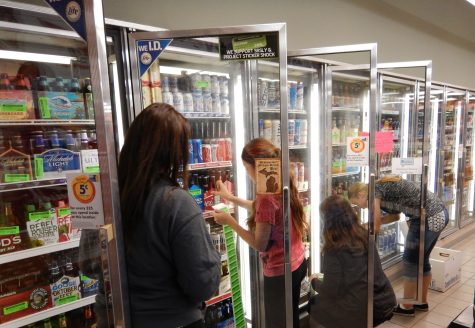 The SRSLY Stockbridge coalition, an organization made up of community members who want to make a serious impact in Stockbridge, went on this trip last summer, in Indianapolis, Indiana and experience the program first hand.
"As an adult advisor, NYLI taught me that our coalition must be 'youth-led and adult-guided'in order to achieve our goals," SRSLY Stockbridge coalition leader Emily Stewart said. "I have a better understanding of how to get youth involved in decision-making for our coalition."
Five adults and five teens from the SRSLY Stockbridge coalition were able to go on the trip.
"We could get to know people from other communities better, and we became closer as a community," freshman Devin Whitaker said. "You get to meet people who have similar problems, such as drug use in their community, and you can connect on a different level."
During the week the coalition focused on learning prevention strategies and how to help youth sustain from risky behavior.
"On the trip we did one major activity," Hannah Bolton said. "We made a map of our community and put places where students could get drugs or do drugs. We learned about spots people do drugs in the community and how to stop it."
SRSLY Stockbridge is still working on using the skills they learned to better the village of Stockbridge.
"Although we need still need to follow-up and meet about the training, members learned the importance of collaboration and the process to tackling a problem," Stewart said. "We learned how to be community leaders and create positive change in Stockbridge. We came up with an action plan to increase education about the consequences of youth marijuana use."
So far they have planned activities like stickering alcohol in local businesses at Homecoming, a March Madness basketball tournament and a community reading of the book The One and Only Ivan, which is being held on April 1.
Leave a Comment