Higher gas prices become problematic
Surge in Michigan gas prices, costly necessity to drivers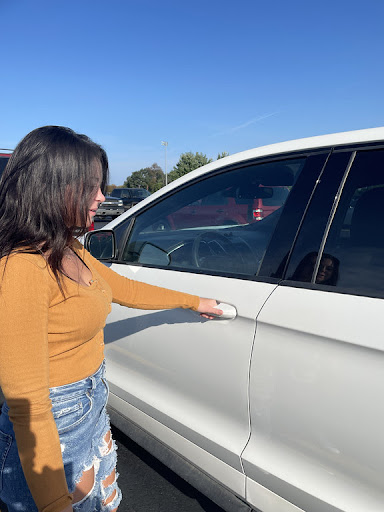 Gas prices have been on the rise since January of this year due to a number of factors, primarily COVID-19 and market related reasons. The rise in prices is a costly, but necessary expense for teen drivers, costing some more than others. 
According to AAA, the American Automobile Association, Motorists are paying $48 for a full 15-gallon tank of gasoline, with an average of about $3.21 per gallon, which is about $1.11 more than it was at the same time last year. 
Long distance drivers and independent teens have it rough, as they have to deal with the higher costs of replenishing the fuel spent and paying for it themselves. 
One senior student, Paige Stolarz, reflects on the high prices today and how low they were earlier in the pandemic. 
"Oh I hate it. I hate paying for my own gas, and it's like, almost like $45 every time I want to go somewhere," Stolarz said. "I remember in the pandemic when everything was shut down it was $1.09" per gallon.
High prices are a hassle for staff as well as students. With the school district located in Stockbridge, a relatively small town, not everything students and staff need is available locally. 
Counselor Leslie Cummings has to drive long distances just to get to work.
"One way I think it's 46 miles," Cummings said. Just to drive to and from work and her home, she drives about 92 miles. As a result, she spends more on gas than others who go to and from work. 
"It's probably at least another $10 more than what it was at when gas was low," she said.
Prior to the increase in price, crude oil prices were excessively cheap due to the pandemic causing the world's oil market to become massively oversupplied with low demand, resulting in low prices. Major oil-producing countries cut down on oil-production in response to the low demand, however, the cut meant oil producers were not ready to meet the demand for oil once it was renewed, thanks to an easing of COVID-19 related restrictions.
Currently, little can be done about the high prices. Carpooling might help save on gas when getting to work or school. "It helps with wear and tear and mileage on the car, as well as the gas prices," Cummings said. 
"I just carpooled today," Stolarz said. "That helped so I wasn't wasting my gas."
Though not available or possible for everyone, carpooling can help those who can, and helps both students and staff spend less gas. 
According to the AAA, the price of gas in Michigan has started to go down, however slightly. However, it will take some time for prices to level out and return to normal.
Leave a Comment