New senior transition class begins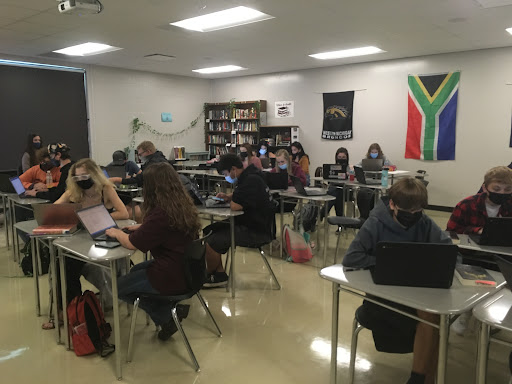 As the new school year has begun, so has a new class. The senior transition class, taught by English Teacher Rita Stricklin, educates seniors valuable skills that they will need in the future, such as how to create a good resume, how to write cover letters, and eventually how to budget, how to fill out taxes, and how to plan for retirement.
Strickin said that she has started with resumes, cover letters, and interviews, and will soon do budgeting, taxes, and how to plan for retirement.
 "There's a whole bunch of things that we kind of go over, a lot of the class is driven by the students," Stricklin said. "So I always, you know, leave room so that if they have questions that they want to focus on, or a topic that maybe I hadn't thought of."
She will incorporate English elements to the course, such as writing, blogging, and reading, so it counts as an English class.
Students in this class want to learn how to do skills that will be required of them in their future, but are not usually taught in detail, such as budgeting and taxes. 
"Truthfully, I just want to learn, mainly like, a little bit of everything, like taxes. I want to know what to do, what not to do, and what to do if I'm doing something wrong [so] I can know how to fix it in the future," senior Kara Brown said. 
First impressions of the curriculum are positive with students looking forward to going in depth on topics. 
"So far, yeah I learned a little bit of, like, how to write a resume in with the Wilson Talent Center but they didn't, you know, go too far into depth with it," Christopher Rosedale said. "And I really like how we're doing it in this class because we're just doing it step by step, kind of just going at our own pace as well, and it's pretty nice."
Leave a Comment