Changes made in choir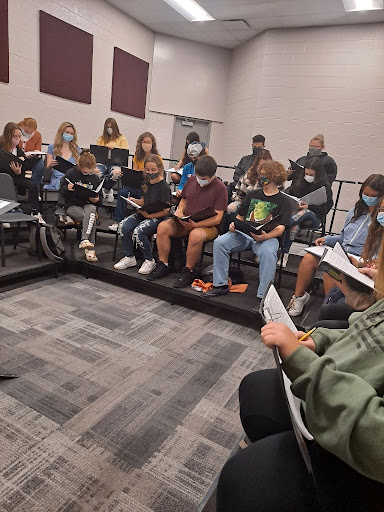 With a new year, new teachers, and new students, classes are finding their way into learning. One of these classes with one of the biggest changes is the Choir. Collin Price, one of the new teachers, has been doing things differently, 
"It's all a transition," Price said. "I can't just throw harder things at them now. I'm gradually working them into four-part now, but their confidence in their skill set comes first."
Even though adjusting is difficult for teachers, students also seem to enjoy Price and the changes he's made. "He's so great, and we've just learned so much." Junior Josie Beutler said. "And this is only the second week!"
Senior Christopher Rosedale also agrees, gushing about how much he enjoys choir in this new year.
"I love him so much. He's taught us so much in just the last week and a half. He's teaching us to actually sing, and be musicians ourselves,"
Other musicians are happy as well with the changes that are happening in the building. "Yes, Mr. Price is here. He's young. He's excited to start his career as a choir teacher," band director Patty Pniewski said. "The students are going to have to be a bit more independent and make sure that they can sing their part. They're going to have to figure out how to recover if they get lost." 
Even Mrs. Hatch is off enjoying her retirement now, even though she had struggles leaving the choir behind.
"Retirement didn't really hit me until about a week ago, when school started. I was a little sad that week," Hatch said. "I'm gonna say retirement is pretty good, but you've got to keep busy when you're used to being busy."
Leave a Comment