Superintendent Karl Heidrich steps down after 21 years of service
Karl Heidrich has worn many hats throughout his life: son, brother, student, athlete, teacher, principal, superintendent, husband and father. On the 1st of July, 2020, Heidrich will be hanging up his administrative hat as he retires from his 21 years of service at Stockbridge schools.
With what Heidrich calls "great role models" and "good relationships" as an adolescent, he was guided down the path to where he is today. One of Heidrich's first of many, was his father Conrad Heidrich, an elementary principal in Findlay, Ohio, where Karl got his first influences of school life. 
During his time at high school in Findlay, Ohio, Heidrich wore both a scholar hat and a football helmet. He was studious and hardworking. His teachers also held the position of role model as they "altered and changed me to make me a better person," Heidrich said.
One subject in particular that Heidrich enjoyed through high school was biology, and it would later influence him in his field of study in college. 
Graduating high school in 1990, Heidrich attended Hillsdale College where he got the chance to be a student athlete and play football at the collegiate level. 
Blocking the line, Heidrich's position was the offensive guard. While on the team, he learned valuable lessons about organization and teamwork.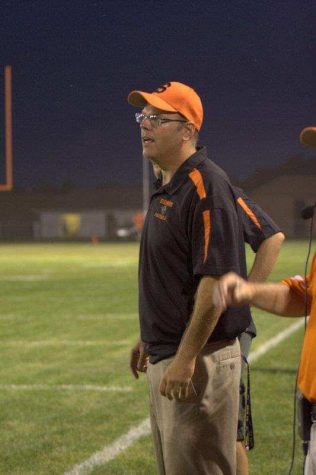 "It was a good experience," Heidrich said, "being able to work as an organized group and doing the best we could."
In 1995, Heidrich graduated from Hillsdale with a Bachelor of Science degree in biology. Choosing to stay in Michigan, he received a job at Deerfield Public Schools teaching biology and serving as the athletic director.
Fresh out of college, Heidrich described this newfound experience in teaching as "new" "rewarding" and a "great opportunity." As a teacher he wanted to help his students 
"reach their dreams and goals."
Trying on the hats of those role models who influenced him, Heidrich took his influence outside of the classroom. Heidrich coached both football and middle school track and was able to influence students in more than just school. 
While at Deerfield Schools Heidrich met his wife Bridgett. They were married in 1999 after he left Deerfield Schools and came to Stockbridge for his job as assistant principal at the high school. After only a year, he was promoted to principal in 2000 after Daniel McConeghy stepped down. From 2000 to 2013 Heidrich held that position.
 During all this time of acting as principal and a role model for his students, Heidrich wasn't just lounging around at home. He was raising his children alongside his wife. All three, Baylee, Kylin and Kolton attend Stockbridge schools. 
Heidrich's time as principal ran smoothly, as principal he enjoyed interacting with his students in their everyday lives, but enjoyed being superintendent even more as he could bring more change to the district as a whole. 
Science teacher of Stockbridge Bryan Tasior said that Heidrich, "was a great principal, very attentive," and he "helped teachers out when there were issues." 
Tasior thinks that while he was good as a principal, he has been an even better superintendent.
As Heidrich followed his path from position to position he didn't forget to, as he said, "keep pushing," himself. 
He kept picking up multiple degrees along the way from a masters in education from Toledo University in 1997, a specialist of arts in educational leadership at Siena University in 2004, and as current as receiving a doctoral degree in educational leadership from Eastern Michigan University at the end of 2019.
"Finance, labor negotiations, mentoring of administrators and representing our district at a state level or locally," are all skills that school board president Carrie Graham thinks Heidrich excels at.
As a superintendent, Heidrich used his abilities to help the welfare of the school.
He is well known for improving school finances, expanding the student population, and as a feather in his cap, passing the bond that expanded the schools and updated technology. 
Crediting the staff for their ability to care for the district, Heidrich thinks that "through all the ups and downs, the staff always works together and are proud to make a difference, even if it is small."
After 21 years of switching hats Karl Heidrich will be retiring from Stockbridge. During retirement Heidrich hopes to "explore opportunities and see what's out there," hoping for the opportunity to take up another position of educational leadership, he said.
As he says farewell and goodbye, Heidrich thanks all the teachers of the district and says, "what a great district to be a part of."
School board president takes off her hat to Heidrich.
  "He has been with the district for 21 years and we have benefited from his varied roles during that time," Graham said.
Leave a Comment