FIRST robotics greatest accomplishment: making it to Worlds
Teams from all over the world travel to the Cobo Center in Detroit Michigan to compete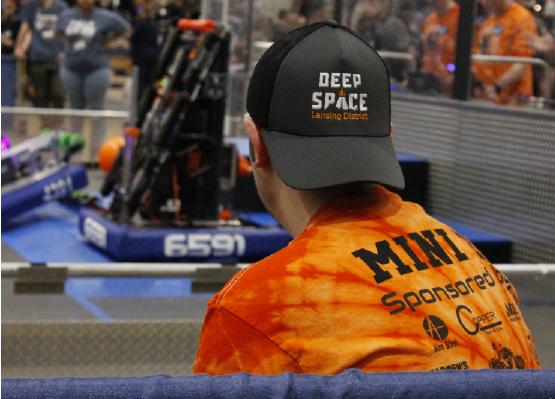 Hang on for a minute...we're trying to find some more stories you might like.
"Robotics teams ready to start, in 3, 2, 1, GO!" Six teams stand on a platform ready to begin the match hoping for victory, the Panther Powered team among them.
With the 2019 theme of space with rockets, cargo ships, hatch panels and more, the 6591 Panther Powered team came in 46th place overall in their division called Archimedes. Although they did not do as well as they thought, teammates learned a lot of experience being at a world competition that included 405 different teams from 14 countries.
The Michigan teams had been working for over four months, getting ready for the competition. In the beginning, competition started at high schools across the world at district events, with teams moving on to States, and then Worlds.
High school senior Jonathon Walker, on the 3655 Tractor Technicians, the Mason team, said, he enjoyed "being able to compete with the best teams not only on the field but for awards, too."
When the robots were placed on the platform, there was a red and a blue alliance. An alliance, teams that will help each other, made a difference at times when one team had trouble with its robot during a match.
Junior Jon Clark from 6591 Panther Powered said, "We help other teams and it's pretty much all that FIRST is about is playing with people at their best and beating people at their best. They exchange robot parts and they show each other how to use different sorts of tools. For example, our team has a 3D printer, most teams don't have that. So, we can 3D print like stuff for people if their stuff breaks."
From the get-go, the Sandstorm starts. A black sheet covers the shields, and with that, the teams stand behind. As the game begins, with 30 seconds on the clock, the teams have to use their cameras that were put in to see what happened during the Sandstorm. During this time, the team had to put cargo balls and hatch panels in the rockets or cargo ships to gain points.
"It was challenging to operate the robot as effectively during the sandstorm as I could during the teleoperation," said senior Jade Harbert from team 6591 Panther Powered.
When the 30 seconds ends, the black sheet will come up and the teams can see where and what their robot is doing.
Then, the clock counts down two minutes to finish putting the cargos balls in and the hatch panels on. When the time ends, the teams wait to see what their scores will be. It could be a tie or win or lose situation. If won, some of the teams' ranks go up.
"Our team won enough ranking points to carry us to the World Championships at the Cobo Center in Detroit" said freshman teammate Grace Dreier, who designs the team's public displays like banners, shirts, and buttons.
Ranks add points that bring up the teams up to number one.  As they win matches, their rank goes up. There were several ways to win to go to Worlds, like earning awards or earning a higher number in ranks.
Of the experience, junior Freddy Choate said, "It's an opportunity to get me out of my comfort zone, learn about technology and robotics and meet new people. I had no other curriculums and robotics appealed to me more."
Finding an idea of what to build for competition was just the beginning.
Engaged and working until 10:00 at night was common for the FIRST team. Getting grease on their hands to bagging the robot were all steps to their accomplishment.
"Robotics teaches you skills that employers want like engineering, business, leadership skill and how to compete in a competition while helping your opponent succeed," sophomore Brooklyn Baker, who handles business and marketing, said.
A robotics team going to States was the best thing that could happen to 6591 Panther Power team, that was until it earned the right to go to Worlds.
"It felt amazing," adviser Bryan Tasior said. "I feel like our team has grown a lot in the past 3 years and making it to that level as a third-year team felt good."