Muddy Situations: Dirt Bike Riding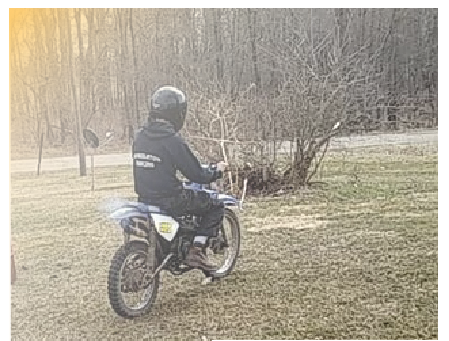 Eighth-grader Connor Allen rides his dirt bike whenever he has time.
One of those times proved to be the scariest. The throttle on his dirt bike got stuck wide open and he hit the pool deck. He was terrified of getting hurt, and for good reason. He ended up with a burn on his arm.
Allen counts the sport as one of his favorite things to do. He loves the adrenaline it brings him. 
"A risk of dirt biking is flipping the bike and getting seriously injured or killed," Allen said. He started riding dirt bikes when he was about 5 years old. His first days of the sport 

consisted of having fun and enjoying the thrill.
Although, he has wrecked many times, he still gets up, brushes off the hurt and gets back on the bike. It is not a surprise that dirt bike riding makes him happy all the time. He said, "People do not understand how fun dirt bike riding really is or the enjoyment of the wind in their face as they ride."
When riding, one needs the ground to be loose enough so it does not jerk the rider around.
"You should only ride in places of dirt or mud and stay off the gravel," Allen said. He thinks riders can enjoy any weather condition, but could ruin the bike or fall off in some conditions.
While fun, dirt bike riding can also be very dangerous. A place called MSF Dirt bike school gives eight tips on how to stay safe while having fun. They also give a one-day lesson on how to ride a dirt bike. Visit dirtbikeschool.org to learn more.
Graduate Kenny Newman, rides his dirt bike for fun whenever he has time away from work. "Risks of dirt biking is the fact that you could break bones or worse," Newman said.
He started riding when he was 12. His first day, he crashed but it was not too bad.
His most fear-filled moment riding was when he broke his wrist for the fourth time and landed on someone. He most enjoys when he got to ride trails up north in Kalkaska. Newman thinks the best way to get into dirt bike riding is by buying a bike and taking all the advice you can.
The best-known race to compete in is Motocross. They have races all around the world. Other races are the Sprint Enduro, Normal Enduro, and Hare Scramble.
Whether for a race trophy or a just an afternoon hobby, dirt biking fuels enjoyment for the adventurous.  "The most important thing is to have fun, enjoy the thrill and the wind in your face as you ride," Allen said.