Blink and you'll miss it
Legendary punk band comes out with more aggressive tones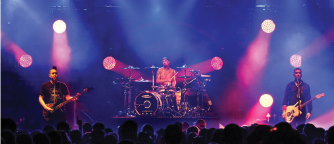 Blink 182 opened up a new world of creativity with more aggressive rhythms and ideas unlike anything they have ever done. In an interview with Billboard Magazine, Travis Barker, the drummer for Blink 182 explained that they are experimenting and trying to go for new sounds that people cannot compare to any of their previous tracks.
"The songs on the new album do not have any brothers or sisters," Barker said, "They don't sound like anything we have done before."
Ever since 1992, when the band originally came out as Blink, they have always had a high energy, punk rock sound. In their seven total albums released, the melodies that both vocalists and guitarists Mark Hoppus, Tom Delonge, and drummer Travis Barker played, felt and sounded nearly identical. Their vocal meanings were very random yet still brought a positive impact to young punk fans.
In 2015, when Matt Skiba joined in place of Delonge, the band's messages became a little more meaningful, though still portrayed that Blink 182 feel. However the album, even though it does not have a release date, has already caused a stir amongst their fans over its unique sound.
For sophomore Kalysta Connolly, Blink 182 has always been a helpful part of her childhood growing up. The lyrics inspire to keep moving forward even when the times get rough. "Their main goal is to get people to really just believe in themselves and have confidence," Connolly said. Over time, they have helped her to realize that when things may not be going the best for her at the moment, it will all get better in time.  
Considering that the new music they're coming out with is leaning to be different from their old, "There is going to be a group of people that are not going to like it, and there is going to be a group of people that will like it," Connolly said. "A lot of people liked their old sound because of how it always seemed the same and gave that same feeling, and this new stuff may not."
This is true for junior Dominic Beutler who, like Connolly, prefers their old punk sound. "My whole freshman year was nothing but Blink 182 and My Chemical Romance," Beutler said. "I think their main message is to really just try to live life to its fullest when you can. Keep yourself together."
Lately, Blink 182 seem to be going through an outburst of pop-punk music, which lead some of their fans to shake their heads. However, since their newest album consists of more aggressive tones, they may have created a better hook. "I actually like that idea," Beutler said. "The main reason why I don't really like their newer style is because it has become too poppy."
For the people just getting into Blink 182, they have more of an open-mind to their new style. For sophomore Danielle Barbour, "Some of their songs have a similar style, but the ones I listened to seem a bit unique to me," Barbour said. "I would probably listen to the new album that is coming out."

Leave a Comment