The 90s are the new 2010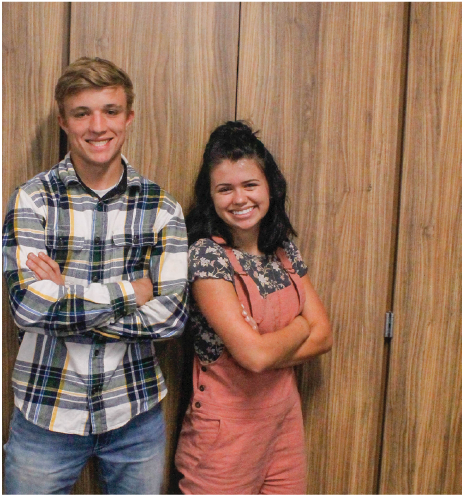 And just as the painters pants became overalls, fashion became top priority. Scrunchies, plaid, stripes, and blue jean jackets are only a little portion of the new old style. GenZ's can experience confidence when following new trends.
Hailey Howard, a sophomore, explained that she feels comfortable in the clothes she wears as she follows this new admired trend. "It makes me feel confident and happy in the clothes I wear," said Howard.
The 90s style has given self enlightenment to some young adults. The boost of self esteem that some feel is one of the many reasons the 90s style is so popular.
Social media influencers and current popular figures like the Kardashians could be the reason the 90s are popping.
According to a writer for The Content Plug, "Once pictures from an event or red carpet hit the 'net, they are immediately posted on Instagram with brand tags. The brand's social accounts do the same and may even include a link to directly purchase the item."
Social media profiles have again made a huge influence on young adults to buy the new trends.
New pages and hashtags have been created on Instagram dedicated to the 90s style to show love for the fashion. An example is the #fahioninflux page on Instagram, which is a page made for fashion inspirations. Lydia Rose, a famous YouTuber, is the owner of this page which has 2.8 million followers and 40,000-190,000 range of likes per post.
Hashtags are added to posts so viewers can click on the hashtag to see more posts like the photo. The 90s and aesthetic hashtags continue to rise, the #aesthetic hashtag towers over the 90s hashtag with only 13.3 million posts. The #aesthetic reaching 39.2 million posts added.
The Kardashian family has changed their pages to become more of a 90s aesthetic for their followers likings. For example, Khloe Kardashian, the 13th most followed person on Instagram, changes her color theme of her page every month so her followers are not bored of what she posts. Her outfits consist of denim skirts, denim jackets and some denim crop tops. This influences her followers to follow her 90s style and color schemes.
"The media definitely plays a prominent role when it comes to fashion," Shelby Zeigler, a sophomore on the VIM magazine team at MSU, explained. "Every year, a new trend emerges that becomes so popular that it gets outgrown by the next year. However, trends reemerge years or even decades later, but in different, more hip ways." The new trends that come out around every year are pressured by social media, maybe too hard.
Magazines, social media, famous idols, all of these things push young adults to change their closets to feel as though they fit in with the rest of the world. This style might not make it to 2020 from how much pressure is being given. "It's important to not just be trendy," said Zeigler. Fashion isn't always about following trends. "Make everything you do exemplify the message you're trying to convey."