Hannah Glair's memorial yearbook page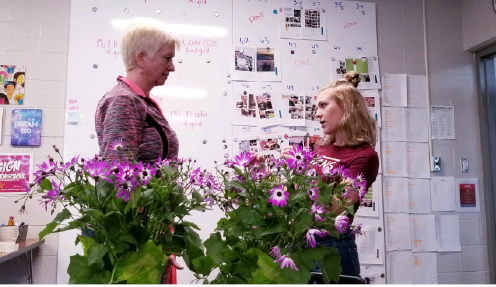 Hang on for a minute...we're trying to find some more stories you might like.
Yearbook students brought it upon themselves to fundraise for a memorial ad page for Hannah Glair, who passed away in the winter of 2018. The results were tremendous, raising $400 and some odd cents, surprising many yearbook members.
Sophomore Jon Clark, the staff business manager, worked with the assistant editor, junior Cassandra Chapman and yearbook adviser Elizabeth Cyr to come up with a fundraising idea to pay for a memorial block in the yearbook in memory of Hannah.
"All we wanted was a small block, which is about $65 to $100," Chapman said. "But then, we started gaining more money…. So, we have enough and some."
Clark thinks Sarah Henderson, a family friend of the Glairs, had a huge part to play for this fundraiser happening.
"She helped me plan it," Clark said. "To be honest, it probably wouldn't of happened if she wouldn't of helped me out, because I had no idea what was going on. I've never had to organize something like that."
Clark feels that Cyr also played a big part in helping him complete the task.
"She brought in food. She kept me motivated.' Clark said.