Freshman flutist breezes into States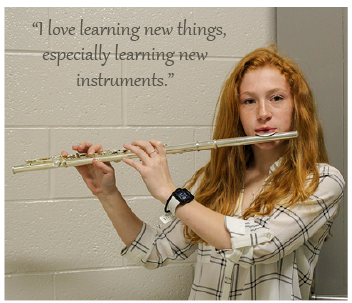 Hang on for a minute...we're trying to find some more stories you might like.
Making it to compete in the regional solo and ensemble in middle school is one thing; however, making it to States in high school is another. After 3 years of determination and ever since sixth grade, freshman Kaitelyn Walker set a goal to perfect the flute and attend States.
Of the three musicians who qualified out of the whole band, Walker was the only one who decided to take that final step to reach her goal. "I heard that if you get a 1 you get to go to States, and I thought it would be really cool to go my freshman year," Walker said. "So I practiced really hard."
After performing her solo piece at the District/Regional Solo and Ensemble, she received a rating of 1, which determined her qualifying. Her band director, Patty Pniewski explained that there are five categories that their rating is based on: tone, intonation, rhythm, technique and interpretation.  
"What you have to do, is in each of those categories, you have to get a 1," Pniewski said. The judges base the 1 on an A, B, C, D, E, scale. A competitor must get at least three A's to get a 1 in those categories. "That means she did a superior job in those categories," Pniewski said.
Walker performed "Menuett" by Friedich Kuhlau as her solo piece and received great feedback from the judge on March 16 at Okemos High School. "The judge said I had a beautiful tone, and I was very accurate with my rhythm," Walker said. "I was very nervous since I had never done that before."
According to choir director Carol Hatch, as Kaitelyn's accompanist, "She has grown so much this year and played her solo very beautifully. It was an honor to play for her."
Walker, always intrigued by learning new things, provides a prime example of how determination can help people reach their goals. "Now, I play the flute for concert band and the alto saxophone in jazz band. I always wanted to play the flute since I was little," Walker said. "I love learning new things, especially learning new instruments."