Musical influences
Local bands share ingenuity
Michigan Misfits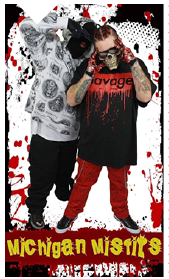 We all have dreams. Whether or not we decide to make something of them is entirely up to us.  Getting inspiration from others and becoming our own source of influence is a gateway to success when it comes to the music scene. This path was true for the Michigan Misfits.
"As much as we hate the comparison, Insane Clown Posse and Esham, a Detroit artist for those who might not know, are big inspiration. Mainly for the over the top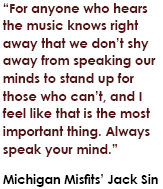 stage presence," Jack Sin from Michigan Misfits said. "I grew up on a lot of heavy metal and punk music as well, so that raw, in your face style came natural with the freedom of expression that hip hop music provided. Since we have such an in your face style, the message is to really always express yourself without restrictions," Sin said.
"For anyone who hears the music knows right away that we don't shy away from speaking our minds to stand up for those who can't, and I feel like that is the most important thing. Always speak your mind," Sin added.
Michigan Misfits as well as their following are strongly influenced by the right to express themselves. Find their music on their digital store with Bandcamp.
Holy Roots
The main drive for any band is the freedom of its members to express their feelings to the world, to be able to reach out, in their own way, and influence others toward their direction.
Some may find that their happiness lies with others. Take a deeper look into what influences these diverse bands and what they hope their influence becomes.
Constructing a positive impact on the world influences most bands try to achieve their goals, especially those that work extremely hard and put all of their time and effort into making an impact.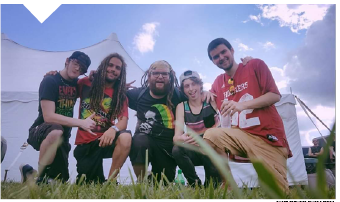 Such is true for the members within the reggae band Holy Roots.
"We try to portray ourselves with a positive attitude and spread that positivity as much as we can through the music we play," the drummer Kyle Berry said. "The name 'Holy Roots' means something a little different to all of us, but to me I use the analogy of a tree in a storm. When the wind's blowing hard and the rain's crashing down, a tree has to rely on its roots to stay grounded. But when the storm passes and the tree takes in the rain water from the storm, it becomes stronger!"
Their song "Roots of Eternity" combines reggae verses and jazz choruses that really give the listener an upbeat feel. Their music can be found on bandcamp.com. As of right now, they are working on releasing a new album.
City Scope
In some way, bands want to stand out. Their uniqueness drives them, and their fans love it.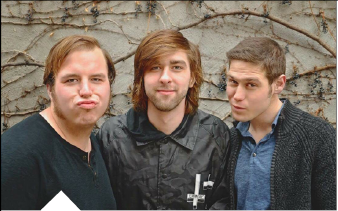 For City Scope, playing in metal bands and creating melodic pieces really helped them get into the style of music they play now.
"We as a whole took interest in the more clean tone instrumental bands that were coming out, and I think that all of us kind of wanted to start going for that next step up in our playing," guitarist Adam Richards said.
He and his drummer John are very much influenced by peers such as friends and family and have been since high school.
"From the opera house to watch endeavors, to the community center where the band, Die Hard, threw chairs at high school students, a couple of kids would decide nothing was better than being part of this, doing this, and loving it," Richards said. "The stage becomes your altar, in a way, letting you spread your own gospel and we hope people who listen to every genre hear something they like."
Music itself is very influential to the listening audience. In a band, the members have the privilege to allow their thoughts and emotions to be heard and felt by others.
Take, for instance, "MoonSugar," a clean, melodic jazz tune sure to inspire any listener. You can find it and all their music on Spotify, YouTube, Facebook, iTunes and many more. Their website is cityscope.bigcartel.com.