Ahead of her time
Special education teacher and NHS adviser excels early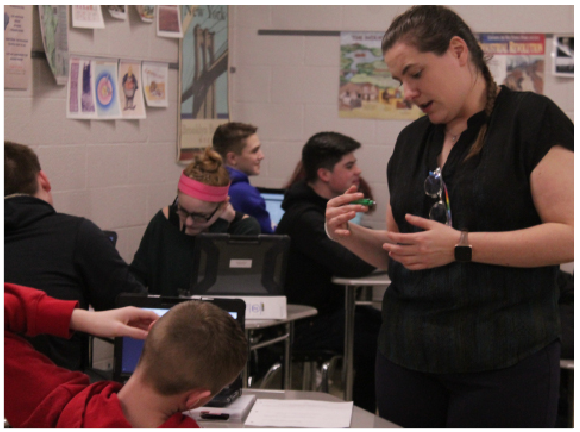 Hang on for a minute...we're trying to find some more stories you might like.
A teacher has been excelling in her job. This teacher is Kathleen Riley. I observed Riley when she was team teaching in U.S. History with Corey Baird. She was doing what she loves: helping students. I learned later that her focus is to help students as much as she can.
She turned that classroom passion into a formal role with the National Honor Society. Riley coaches the group to make an impact in her corner of the world.
With a Donors' Choose grant, Riley and the officers supplied feminine products in the bathroom as courtesy of National Honor Society. In early February, they did the Polar Plunge to support the Special Olympics of Michigan. They helped at an animal shelter to get pets adopted and assisted with the Winter Carnival held at Smith Elementary. This extensive list of good deeds has all been supported by Riley.
In an effort to get more involved with students, Riley approached the idea of advising the National Honor Society two years ago. "I was a part of National Honor Society when I was a teenager. I wanted to see it from an advisers point of view," she said.
The student officers and Riley decided to put feminine products in the girls bathrooms because they know the struggle that girls go through that is often overlooked.
"Some girls may not have access to the products they need. We wanted to give them the feeling of comfort that they have something to use when they need it," Riley said.
"Ms. Riley has opened many opportunities to take on to help contribute to the community," said Junior Andrew Carriero.
Riley's influence has spread from project to people who are grateful for her presence. "She has given me these opportunities to help grow as a person. I'd say she definitely is good at finding opportunities for us members and leading us in the right path," continued Andrew Carriero.
While offering direction is in the job title, her demeanor has influenced other participants.
"Ms. Riley has helped me realize the importance of helping people and being kind to others," senior, Katelyn Knieper said who hopes to be as kind-hearted and as generous as Riley.
"She always makes sure her students are put first, and she does everything in her power to make sure we are happy and comfortable while we participate in different things for NHS," Knieper added.
Social students teacher Corey Baird, the mentor who took Riley under his wing when she was a student teacher said, he had "the pleasure of team teaching with Ms. Riley for both of her first 2 years of teaching. She is an awesome colleague to partner with."
Even other teachers see her as a positive influence in the school. "She is enthusiastic, has a sense of humor, and is a team player," Baird continued.
He believes that she is ahead of her game in her teaching experience.
"She is way ahead of where I was at her stage of her career, especially in terms of balancing everything and her classroom management," Baird said. He thinks she uses the right mix of firm yet fair discipline while still being able to relate well to the students.
"Most teachers early in their career struggle between the extreme opposites of being either too tough or being a pushover," according to Baird who sees Riley strike just the right balance. Not to mention, Baird recognizes that there is so much to absorb and process when you first start teaching. He thinks Riley "does a much better job of this than I did at her age."
Most know that Baird as a super fan of the Michigan State Spartans. "Naturally, she is also awesome because she is a Spartan grad," Baird said.
She may be a Spartan, but she is also a leader, a teacher and an adviser.