Flatbush Zombies' 'Vacation in Hell,' sign of increasing talents
Hang on for a minute...we're trying to find some more stories you might like.
The rhinestones profiling ZombieJuice's sunglasses come in a blinding flash, just as the deafening bass comes in on the music video for their new single, "Headstone." The rap trio hailing from NYC returns to the rap scene with their second studio album, "Vacation in Hell."
Hailing from Flatbush, New York, the unique rap trio, improves in nearly every way compared to their first studio album, "3001: a Laced Odyssey."
One of the biggest improvements Flatbush Zombies have made since its last album is the production. Every single track on this album has an interesting and unique instrumental, thanks to the member Erick the Architect. Every time you hear a beat during the LP, you are immediately gripped by the soundwaves that have a quality to them that is rarely heard.
Another major improvement that has been made is the confidence and comfort that they now present when they step into a studio. Each member has a completely different style and voice, and each is explored to the very extent of its power, causing a fascination with each song that was heavily muted in their first studio album.
Along with this presence, their lyrics have improved. The grimy psychedelic lyricism the Zombies are known for is amplified, and the punchlines and clever wordplay is added to the mix in a big way. One of the best songs to display this is "Headstone," which has an unbelievable amount of hip hop references in just a matter of 4 minutes.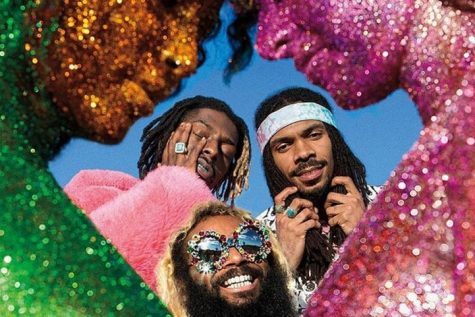 Although "Vacation in Hell" is a major step forward as far as the Flatbush Zombies discography goes, it also takes one small step back.
The only gripe I have against this album is the amount of tracks that could be cut. Overall, the album has many fantastic performances and even more fantastic production, but there are some songs lacking the poignancy a Flatbush Zombies work needs. One of the biggest examples is the track "Big Shrimp," which just sounds neutered compared to so many other tracks here.
As an album with so many striking and great songs, it would be a crime not to appreciate this as one of the better LPs of the year. But, the extra fat on this piece must be accounted for. All in all, I would give this album an 8/10.