Halloween lights across town
Residents in the community decorate light poles for charity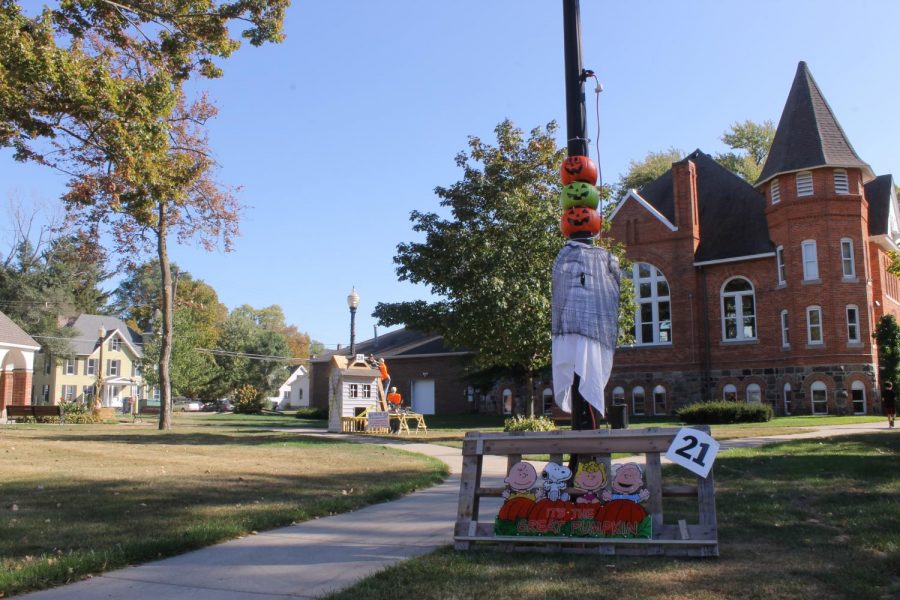 Glimpses of orange and purple lights wrapped around light poles shine at night when walking around the town hall. Skeletons, witches and creepy houses add the to the spooky effect.
Many residents have been decorating light poles across Stockbridge to help out the community's local charities.
Senior Emma Humrich's family decorated light pole 28 on the left side of the town hall to donate the money to the PTO (parent-teacher organization).
"My family likes to help out people," Humich said. "I think it's a good thing, because you're giving back to the community while raising money for charity. We did it to help out people for a good cause."
The businesses around town collect the votes for the best decorated pole with each vote, which costs $1. The contest will end on October 31. The winner receives $200 and the money from votes. They will be able to donate to a local charity of their choice.
Employee of Simply U, Christine Satur, decorated a light pole for that reason.
"If we win, we are donating the money to the youth group at Crossroads Community Church."
Stockbridge citizen Deanna Kruger came up with this charity idea and was shocked by the response of the Stockbridge Community Facebook page.
"The turnout was absolutely fabulous," Kruger said. "I had no idea it would take off the way it did. The number of poles getting decorated jumped from 10 to 30 poles."
With Homecoming around the corner, people near and far could see the festivities all over town.
"We are really excited about homecoming and how people will gather and see how beautiful the light poles are, we hope that this brings more visitors for our small town."