Less stress, more stretch
Yoga detangles both the mind and body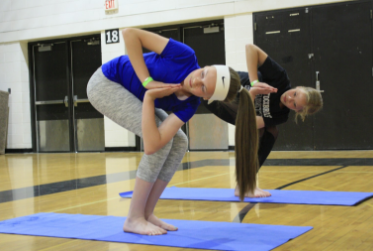 Hang on for a minute...we're trying to find some more stories you might like.
Whether it is school, work or something personal, life can become stressful very quickly. There are different ways to deal with this stress, and for a lot of people, yoga is a major resolver.
"It's very relaxing," eighth-grader Brianna Hill said. "Like, sometimes it's a little stressful when you're learning new poses because you have to bend your body in weird ways, but once you get the hang of it, it's just calming and relaxing."
Because yoga focuses on self healing, it becomes crucial to a person's health, according to the American Osteopathic Association (AOA).
A natural way for a person to become more healthy, yoga offers health benefits like weight reduction, improved cardio and circulatory health, improved muscle strength and protection from injury.
"Yoga would help a student recenter themselves," physical education teacher Susan Lockhart said. "Anytime that we're stressed out, we actually have inhibitors to our thinking, mental blocks if you will, and so when you start to calm the mind, you allow yourself a better thought process."
Hill, and eighth-grader Kaitlin Miller are the managers for the varsity women's soccer team. Hill and Miller participated in the team's sleep yoga session ran by Lockhart.
"I prefer doing the yoga in smaller groups like we did with the team because that way, we had more attention brought onto us and we were able to have a little more space," Hill said.
The women's soccer team participated in Lockhart's yoga session to heal for their upcoming games.
"It helps as a relaxing method because with everything going on and school it gets stressful at times so being able to just calm down and stretch out is a great thing to do," Miller said.
Yoga helps relieve stress not just physically, but also mentally.
"Aside from the physical benefits, one of the best benefits of yoga is how it helps a person manage stress, which is known to have devastating effects on the body and mind," the AOA website states.
Physically, yoga has been proven to improve neck or back pain, help with headaches and make it easier to sleep at night, directly affecting one's mental well-being.
"Savasana is a pose also known as corpse pose that's quite often used at the end of a Vinyasa or a yoga flow," Lockhart said. "It's meant to calm the breath, calm the body, to recenter the mind, and can for some people be the most important pose they take on their mat that day."