A new twist
The fidget spinner whirls into the hands of students in school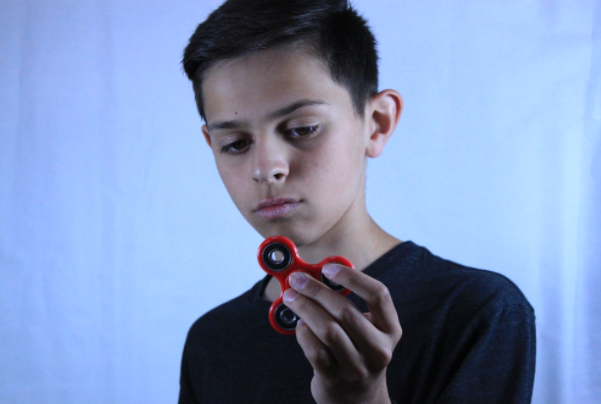 Jotting notes down in math class, eighth grader Landon Clark finds it difficult to pay attention. When he and his classmates take notes, he says "I fidget with my pencil, my feet and just about anything I can get my hands on." Clark, like many other students, has ADHD. "I know I have it because I get hyper and can't sit still, even my mom notices it. The fidget spinner helps me out with preventing that."
A lot of students, as well as Landon, own of these popular toys in our school. The tool is made with just three prongs and a bearing in the center. Like the fidget cube, it helps to relieving stress and maintain focus.
However, some teachers find them distractions when they are out in the open.
"Some will use them to do tricks instead of an assignment," math teacher Jason Rickli said. "So in that case, that's when it would be considered a distraction." English teacher Hilary Lyman-Bower thinks similarly.
Principal Richard Cook thinks this way: "If it is being a distraction to others and the teacher notices it, they can take them away. But so far, I haven't heard of them being a problem."
Science teacher Diane Brooks has even went to having them not allowed out of backpacks.
"They are passing them back and forth, taking them apart, sharing them with each other," Brooks said. "All of the students seem to have one now and it's a complete distraction."
Ignoring the complaints of it being a disruption during class, a lot of teachers do not find it distracting at all. Students get encouraged to use them to help them relieve themselves.
According to a study conducted by the website Friendshipcircle, a non-profit organization that helps people with special needs, in an experiment on a sixth grade classroom in Georgia, the positive effects of fidgets were well observed. Academically, the students showed growth in scholastic achievement when the stress balls were implemented. The average writing score of the class increased from 73% without stress balls to 83% with the use of stress balls.
Guidance counselor Leslie Cummings encourages the students she talks with to grab one of her fidget devices sitting on her table in her room when students need something to help them cope with frustrations.
"A lot of times when I have kids in here. They tend to be frustrated or worked up about something so [the toy] seems to help them with getting focused and even calming them down," Cummings said. "I also have a lot of kids that will even borrow them for class so they can do whatever with it and return it when they feel better."
The school's First Robotics team is making these toys for students by 3D printing them and selling them at lunches in different colors and designs.
Freshman Caitlin Fowler explained why selling these toys helps her robotic team.
"It's so we can raise enough money to be able to go to States and possibly even go to Worlds. Also, to get all the expensive supplies we need for our new season."
Heritage Elementary students have also been aware of these toys, as have their teachers.
Paraprofessional Terry Wireman thinks there is a misuse of these fidgets in Heritage.
"When I work in the library, the kids that come down to get a book always have one in their hands. Every grade has them, and they seem to use them all the same," Wireman said. "They were supposed to be used for kids that needed the calming affect of it. The kids just playing with them are defeating their actual purpose, which is causing a couple of teachers to make a policy on them."
Heritage principal Sarah Bentley clarifies her thoughts on the spinning matter.
"I have noticed that some students need a fidget, and it's helpful to them," Bentley said. "However, I have noticed many students just playing with them throughout the day."