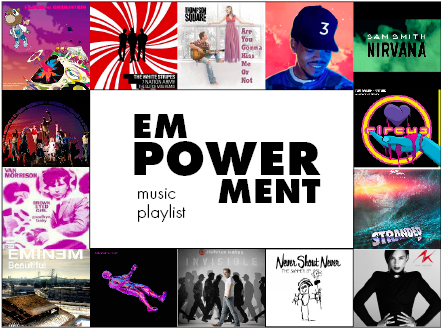 Hang on for a minute...we're trying to find some more stories you might like.
Each title is a link to a YouTube link to the song.
Have a go-to, power-up song? Here are a few to add to your device. Each song was chosen by a student and includes an explanation of how it empowers. Want an entire playlist? We custom made one for you.
Wicked the Broadway show
"It tells me to not focus on the stressful parts of life and to dance through and have some fun. Dancing is also a big part of my life because it is like a mental escape where I do not have to think of the pressures of life and school, I just have to dance. So, this song relates to my life."
– Kaitlin Miller 8
Eminem
"I like this song because he is being serious. He talks about overcoming obstacles in my opinion, like his own depression, and I can relate to most parts of this song. This song empowers me because when I feel down or depressed, I listen to it, and it makes me feel better about the things going on in my life. It reminds me that there will always be a happy ending to anything." – Jason Proctor 12
Never Shout Never
"This song is sentimental to my heart, but empowers me with its touching lyrics. The song uses a comparison of you and the world, in a good way of course. 'You're only as tall as your heart will let you be, and you're only as small as the world will make you seem." – Maria Risner 9
"Are You Gonna Kiss Me or Not"
Thompson Square
"It empowers me a lot because when my mom was still here, this was her favorite song, and every time we got in the car, she would always play it." – Hunter Risner 10
Van Morrison
"I have multiple occasions where I recall hearing this song and it always puts a smile on my face because it dug up some old memories that I'll cherish forever. Like everyone says, an oldie but a goodie." – Gabriel Millen 10
NGHTMRE
 Jerry Folk
 Ship Wreck & Zookeepers
"These songs really motivate me through my day. I listen to them when I'm trying to get my work done, and I need help focusing." – Arianna Gomez 11
 Chance the Rapper
"It reminds me to appreciate life and all of the blessings I have been given. It's also just a feel- good song in general that can put anyone in a good mood." – Sam Nichols 12
 Alicia Keys
"It shows that women are so much more. We are powerful, amazing and strong. It empowers me by knowing that we are noticed even throughout the sexist population, including our president." – Audrey Bradley 11
 Glitch Mob
"Seven Nation Army" gets me pumped up and motivated because bass and loud music really gets me ready for whatever I do."
– Eddie Koch 10
 Hunter Hayes
"To me it says that no matter what you are going through, you will get through it, even if the world doesn't seem to notice you."
– Alexis Huey 11
 Sam Smith
"It just gives me a feeling that lets me know I'm going to be alright, and everything will work out the way it should." – Malena Rosedale 9
Kanye West
"It makes me want to work harder to get stronger in every way." – Roger Bouck 11