Funding project-based learning
Governor Snyder visits Stockbridge robotics program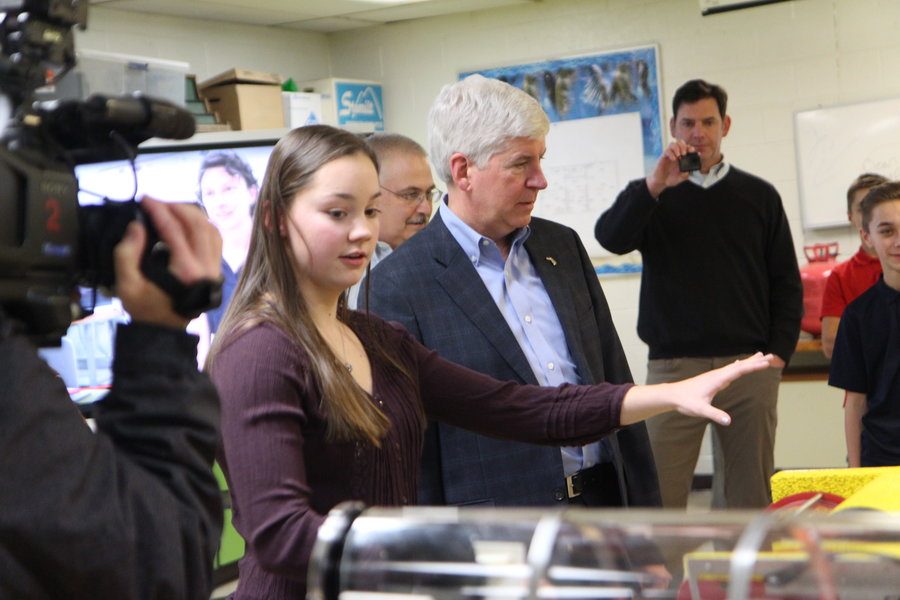 In a short amount of time, students gathered with their creations at the high school, expectant of an important state member to arrive. Following the school day, children of all age groups surrounded their STEM creations, awaiting Governor Rick Snyder.
The state's top "tough nerd," as he refers to himself, visited the high school to view the kindergarten through 12th grade robotics programs to further his initiative to bring science, technology, engineering and math (STEM) education into schools.
"It's exciting," junior Colin Lilley said. "It's taken a long time to try to get him here. It's not an experience a lot of people get to have."
In the short 40 minutes that he had to tour the program led by students and instructors, machines and robots were presented to represent the project-based learning that the program is all about.  
"It was really cool to see someone so big be so interested in Stockbridge," junior Faith Whitt said. "Not many people understand and know what we are doing. We're pretty import
ant, and someone important came here to see us. We can do anything we want to do."  
In Michigan's 2017 budget, $16.1 billion are being put into K-12, community college and university education. In addition to the $2 million being put into First Robotics this year, $500,000 will increase the total. This funding will go to project-based learning in Michigan schools to make education more hands-on according to Michigan's state website.
"I loved seeing our students show their math and science literacy to our state's leaders," fifth grade teacher Josh Nichols said. "Tests can't do that.  Our teachers spend so much time preparing our students be fluent and to express their ideas thoughtfully and each student in that room did exactly that.  Some of my students told me that they were nervous, but because they have skills, the nervousness faded away really fast."
Students spend time in these classes multiple times a week, designing the different projects that they create. Fourth through seventh grade STEM classes recently made an ROV to release salmon after they were raised and have made mini ROVs in the past to combat fake cancer cells.
"We start the day off by drawing boxes, because we have to design our projects and we get in our groups and we make them," seventh grader Kaitelyn Walker said. Speaking of Governor Snyder, "We showed him the mini ROVs we made in fifth grade, getting to meet him in real life was cool," she said. Students from all grades joined at this event, bringing projects to show the governor and other guests.
"I got to show him my air hockey table I made in STEM class," second grader Collin Beckel said. "I played air hockey with him; I won."
The governor came on short notice. A press release gave certain notice to the school a day previous to the event happening according to principal Richard Cook.
"I think he wanted to highlight a community that achieves a lot with little funding," Cook said. "I was really impressed with the poise and the expertise and the professionalism of all the students, from kindergarten to 12th grade. It was a great demonstration of what our students and staff are capable of."
About the Contributor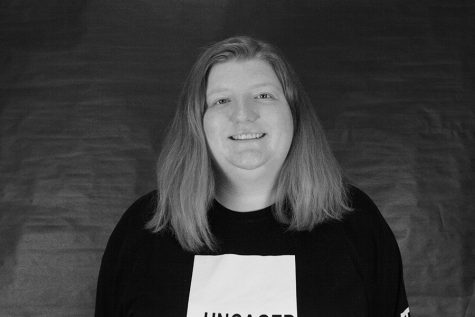 Emma Lockhart, Editor-in-Chief
I received an invitation to join the newspaper in my ninth grade year around scheduling time. This opportunity led to an experience I never even thought...