Winter fashion for the trendy
Hang on for a minute...we're trying to find some more stories you might like.
Clothing is art.
From skirts to bow ties, clothing fads are an expression of oneself. Trends can be found in even the laziest of clothes; finding them is just the beginning. Winter is usually a time for big heavy boots, snowpants three times the size of a regular human body and coats that make the wearer look like a marshmallow left over the fire a little too long.
But, with a little bit of a sense for adorable clothing, having a wardrobe of cute trends isn't hard. Winter fashion is all about how teens can express themselves even with the below freezing temperatures in Michigan.
"My fashion affects my life by making me feel good about myself," sophomore Margaret Darwin said. "I get compliments on my wardrobe a lot, and that helps my self esteem."
Inspiration for an adorable outfit can be easy to find if you look for the right things in the right places. Sometimes a little bit of thought is all it takes.
"Seeing what someone else finds tasteful through their art, photography and style is inspiring," junior Tyler Wayne said. "I think any display of creativity inspires me because we all have our own taste."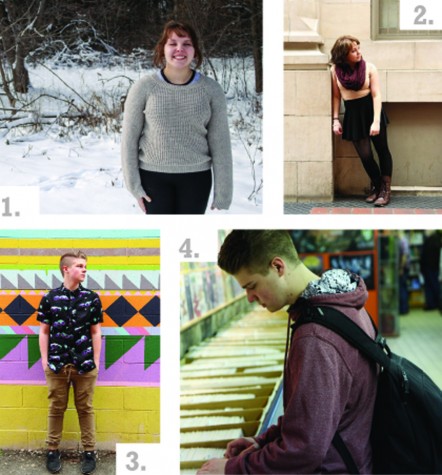 1. Leggings are never wrong, especially with a sweater. Sweaters keep you warm and give you a good reason to be in your chilled out clothing. You can find cute sweaters like these at dresslink.com for under $10. 
2. From one high waisted skirt to another, they are great accompanied by a scarf. With or without tights, short skirts are a totally cute option for a everyday outfit.
Maggi flaunted her skirt with a pale pink belly shirt, burgundy scarf, black tights and combat boots. Skirts at rosegal.com – $10.31. Pale belly shirt found at charlotterusse.com – $19.99. There is a plethora of choices of burgundy scarves on Etsy for under $20.00.
3. From khakis to sweats, joggers are never a wrong choice. While comfy and able to be found in every single color on the face of the earth, they are stylish and okay to wear in public.
4. Tyler rocks his khaki joggers with a cute jellyfish splashed button-up. Joggers like these can be bought at JCPenny's for as low as $27 and creative print button up shirts can be found at Zumiez for $35. Pricey, but worth it.
Tribal wear is always a must, but it is even better when it's warm. Tyler looks trendy while still feeling comfy in a sweatshirt. Sweatshirts like these can be found at aliexpress.com for as low as $19.
About the Contributors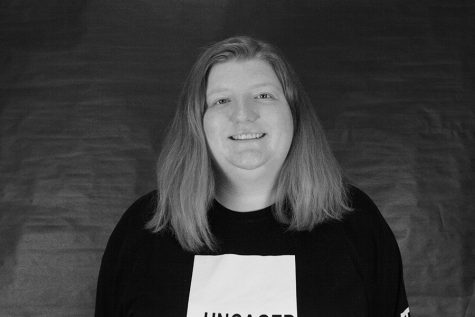 Emma Lockhart, Editor-in-Chief
I received an invitation to join the newspaper in my ninth grade year around scheduling time. This opportunity led to an experience I never even thought...