First time players bring a push to improve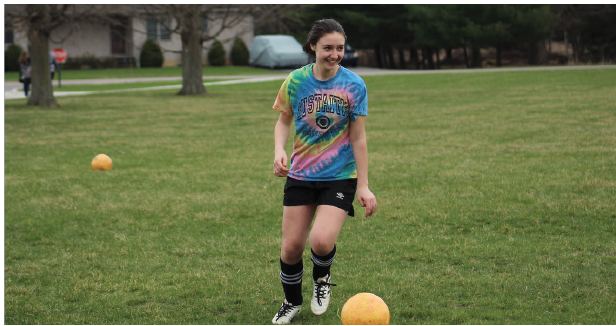 The girls junior varsity soccer team started the season with a loss of 0-8 but are determined to get the ball rolling.
In spite of the season start, coach Jeremy Killinger has a positive outlook for the season. One contributing factor: the team is a lot bigger than the 2018 roster with a total of 16 players.
"One important rule for the team is to show up to practice every day," Killinger said.
At practice, they focus on techniques with the ball, which in the long run will help them become better players. When they lose, it fuels them to push to improve.
"When we lose, it makes us practice harder," freshman Samantha Chamberlain said.
One of the team's toughest obstacles is trying to find games for the girls, because not a lot of schools have a JV team. They only have six games scheduled for the whole season.
With fewer opportunities to play matches, the players spend time bonding to keep their competitive edge.
The key to successfully playing soccer is to get better each time they get out on the field. They always have to think about what is the easiest pass or best pass. They have to know where to go with it. The biggest competitor this season is Lansing Christian.
First year sophomore player, Sidney Keeler concentrates on soccer as her only sport of the year. "Soccer does not affect my schoolwork, but it does affect my free time after school," said Keeler.  Even when they lost their first game, Keeler just tries to stay positive. She hopes to better herself as a player and to better communicate with everyone. "Soccer will probably not stick around as a sport for college but more as a hobby," Keeler said.
Additionally, freshman Samantha Chamberlain is also starting her first year playing soccer. She finds it easier to balance school and sport rather than doing no sports at all.
"It helps me stay motivated to keep up my grades," Chamberlain said. She thinks it is really sad to lose, but the team bounces back pretty easily.
Another first-timer, freshman Brooklyn Tate plays volleyball as well.
"It is difficult to balance school and sports sometimes," Tate said. She gets upset when the team loses, but she thinks players just have to be okay with it and get better at the game. One goal of hers is to get better overall.
The team had its second game on April 22, a win of 2-1. Their third game ended 0-4. Two more competitors complete the schedule: Portland and Fowlerville.