Update: Suspect released from custody, no charges pressed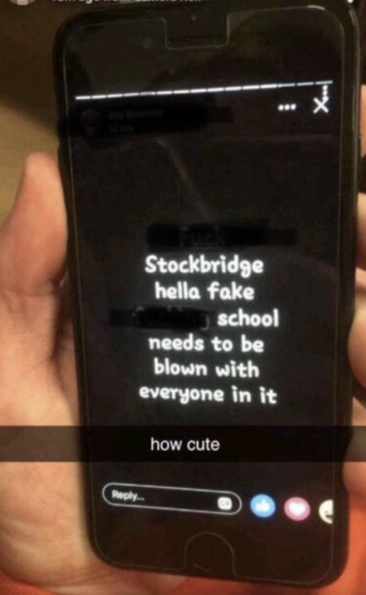 Thursday, February 21, 2019
Stockbridge jr/sr high school received a social media threat. The suspect is in police custody and the threat has been neutralized. The school went into lockdown and students were released at 1 pm.
Uncaged will follow this story.
---
UPDATE: Friday, February 22, 2019
The suspect of Thursday's bomb threat is in custody, and is a 19-year-old former student of Stockbridge High School, police say. Stockbridge schools were back in session Friday.
As soon as police neutralized the threat, Heritage Elementary and Smith Elementary were let out of lockdown and continued as normal. Principal Jeffrey Trapp gave a statement to Uncaged, saying, "We were made aware that there was a social media threat out there, right around 10:50 am."
"We contacted Chief Torres right away," Trapp said. Torres began to investigate immediately, along with the Ingham County Police Department as well. Trapp felt that the staff and students handled the situation well.
"I was proud at how the teachers and the students handled the situation," Trapp said. "Lots of people were as well. It's not great that we have conversations regarding our ALICE protocol, regarding our school safety and threats, but those are conversations we have to have in this day and age."
The suspect is in the Ingham County Jail, and will be receiving charges from the Ingham County Prosecutors Office.
---
UPDATE: Saturday February 23, 2019
In a Facebook post from the Stockbridge Police Department, Chief Torres said that the suspect has been released and there will be no formal charges pressed.
"The investigation uncovered claims of persistent bullying by others," Torres said. "I believe this precipitated the alleged criminal activity."
The suspect did confess to his involvement, and the SPD gave the case facts and evidence to the Ingham County prosecutor.
"Unfortunately formal charges were not issued for the accused", Torres said. "He was subsequently released from custody."
View Comments(1)