Indoor girl's soccer team competes to train for outdoor
Girl soccer team plays other teams in the Lansing Soccerzone arena to gain experience for the outdoor season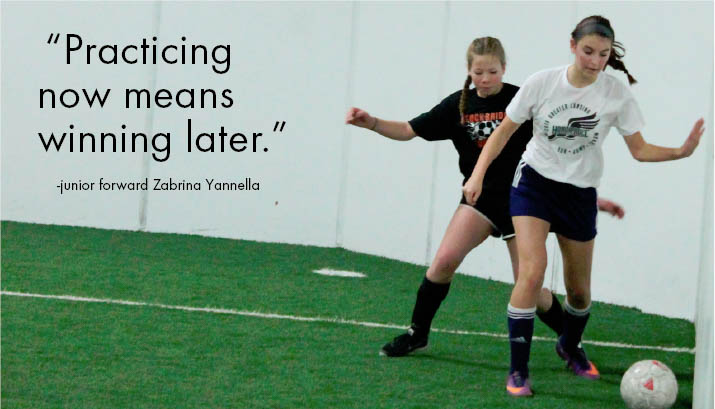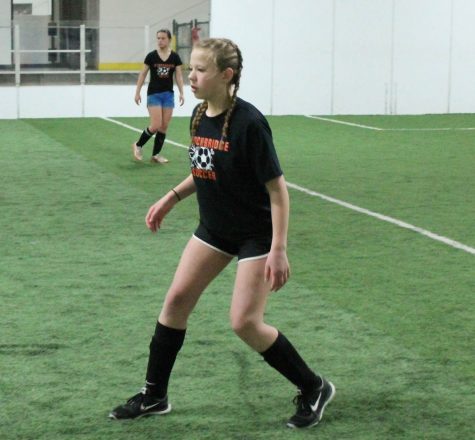 Sophomore Bethany Plennert tends goal on the Stockbridge girl indoor soccer team, blocking and catching balls that opponents try to kick in the goal. Ever since she joined a Stockbridge community soccer team in third grade, Bethany has always been interested in playing the sport. "Each day before practice, I go home and do homework and make sure I have my chores done so I will be allowed to go to practice," Plennert said. She likes that it helps her to be able to do something out of the house and cope with her problems in life.
Training during the winter for soccer may seem cold, but many turn to the arena for extra practice for their skills. Ten girls from Stockbridge keep their soccer skills fresh by practicing and competing at the Lansing Soccerzone arena on weekends against other teams the similar age as them.
Freshman defender Maria Risner thinks indoor competition season is how she will improve her soccer skills for the outdoor season.
"I do indoor mostly for the touches and contact with the ball, so I could have practice for tryouts for spring soccer and possibly make varsity," Risner said.
"
The girls just need to be tough because you can't be wimpy on the field. They've got to be able to take the hits, because it's such an aggressive sport."
— Crissy Horner
For practice, the indoor soccer team goes over drills and scrimmages in a spacious carpeted area at Southwest Church of the Nazarene in Gregory. Since games are typically played inside on a turf floor, the play seems more fast paced and intense as the texture of the turf does not slow the ball according to eighth grade forward Kaitlin Miller.
"The floor has a different friction level than outside because the ball can get stuck in the grass and slow, but [inside] it just rolls and you have to make sure not to overkick," Miller said.
According to girl's indoor soccer coach Crissy Horner, there are many ways outside soccer players can benefit from playing indoor soccer. While there is a difference in rules due to being inside an arena such as the out of bounds lines, it is still a tough game wherever it is played. Opponents such as Dewitt and Leslie are really tough reported Horner.
So far, the team has not had a win, but they still have plenty more of games to play.
"The girls just need to be tough because you can't be wimpy on the field. They gotta' be able to take the hits, because it's such an aggressive sport," Horner continued. "Overall, with the girls gaining their feet skills, which is always something you need when playing soccer, it's going to make it better for outdoor as long as they keep their feet skills going."