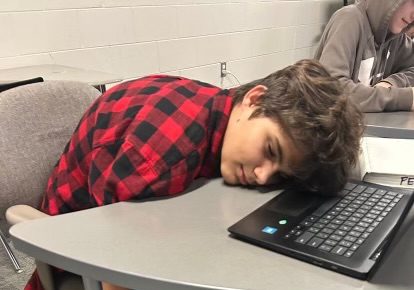 When junior Taylor Kelsey revealed that she woke up at random times throughout the night, she never knew that this could be a sign of supernatural events known as the witching hour. In fact, Kelsey admitted that she had no idea what the witching hour even was.
"When I wake up I feel confused and disoriented." Kelsey said.
The witching hour is the time between 3:00 am and 4:00 am. Origins of the witching hour started shortly after hysteria began surrounding witchcraft in the mid 1500s. This time was associated with spirits, demons and the devil, who emerged during this time as a way to create havoc for the surrounding communities by giving them nightmares and the inability to sleep.
"I've never really experienced anything, but I have friends that experience things during that time," senior Grace Dancer says. 
Some forms of Christianity traditions correlated the time 3 am to the mocking of Christ since it was believed that he died at 3 pm, creating an inversion of time.
Although the witching hour can be seen as something supernatural or even religious, there is actual science that creates reason within this phenomenon.
The human body goes through cycles while we are sleeping. One cycle of sleep we go through is REM, or rapid eye movement. This stage is where most dreams occur and the body's blood pressure, body temperature and breathing pattern become slower. Sudden awakening during this time can cause your body to become disoriented and agitated.
The witching hour can be seen as both a supernatural occurrence and the natural cycle of one's sleep.
Overall, it's up to the person who wakes up to decide whether or not the witching hour is a normal human occurrence, or if it's an opening for demons and monsters alike to pester them with more nightmares to come.