After a long summer, staff have had a lot of time to think about this school year over the summer, along with future goals for the school. One goal they proposed is bringing the school closer together during half-days. They accomplished this by creating a new plan called the buddy system, consisting of a mentor and mentee given to each student in the school. The mentor's responsibility is to guide the mentee through the rest of their school years, while the mentee's responsibilities include listening to their mentor and expressing their own feelings about school such as issues or problems they need help resolving.
"We're really trying to help connect students from both junior high and senior high," Assistant Principal Derek Douglas said. 
There have been various emotions for the new half-days from the mentors and mentees. Some students like being a mentor and having a mentee during the half-days.
"Half-days are pretty cool because we don't have to do any work or have a full class hour. I like my mentor because I am friends with him and he is chill," eighth grader Collin Pilch said.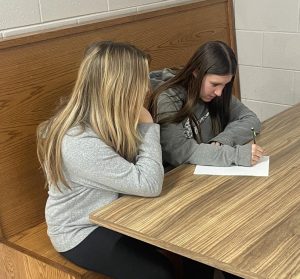 While some students appreciate the half-days and see it as a nice experience, others dislike having them in general.
"I personally think that we should just have the day off because there's really no point to show up at 7:35 am and leave at 10:45 am. We really don't even do anything on Wednesday's with the new buddy system," senior Jay Tatar said.
However, while Tatar admits he doesn't like half days, he has a different perspective when it comes to being a mentor to somebody else.
 "I don't mind being a mentor, to be honest. I don't mind it because if they are my responsibility then they have to listen to me," Tatar said.
The main goal for these half days is for everyone to have somebody to mentor or be the mentee to. Overall, this new half-day system is to try to help our school unite as a whole.
"We're really trying to just connect everyone as much as possible and build relationships with each other," Douglas said.