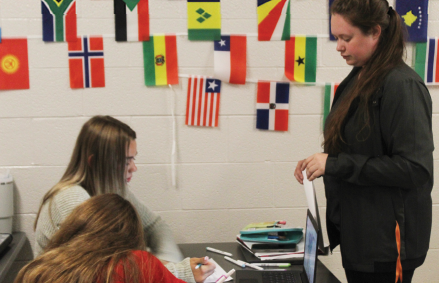 Every day when dozens of kids enter the Government and Economics room, Caitlin Brown teaches them the history of the Government and Economics in our world. Brown teaches high school Government/Economics and 8th grade U.S. History. 
Before Stockbridge, Brown was a long term substitute in Okemos for three years. Brown was attracted to Stockbridge's sense of connection and community, making it a perfect fit for her. Although Brown's career has been short, she has already made a plethora of memories in her classroom.
"The most memorable moments of teaching Government is the students exploring different scenarios and then acting it out," Brown said. 
One of Browns students, sophomore Alana Porizo, already enjoys her Government and Economics Class. Porzio likes the class because they do a lot of debating. 
"Ms. Brown is funny, smart, caring and above all, a great teacher and I love learning [in] her class," Porzio said. 
Long before she began her career, Brown was constantly surrounded by educators. Both of her parents are professors, making her very familiar with the world of education. 
"I've always grown up around education, so it wasn't so much a single person inspiring me to go into teaching as much as it was that I naturally fell into it," Brown said. 
Brown is eager to settle into a permanent position at a school. 
"I'm most looking forward to just being here [for] the entire year, beginning to end and having that experience," Brown said.