Nothing to play for
As of right now, after the 2022-2023 sports season, Stockbridge will not belong to a sports conference. In 2013, Stockbridge left the CAAC (Capital area activities conference ) to join and form the GLAC (Greater Lansing activities conference). The GLAC consisted of Lake Odessa Lakewood, Olivet Eagles, Perry Ramblers, Leslie Blackhawks, Lansing Christian Pilgrims, Maple Valley Lions and the Stockbridge Panthers. Now, the league is breaking up because other teams are leaving the GLAC; Maple Valley is going to the BIG Eight, Lakewood and Olivet are leaving to join the CAAC and Leslie is leaving to join the CMAC. 
"I'm still really stressed out about trying to find games, and I am also stressed out about all of the games being away and being really far away," gym teacher and girl's basketball coach Susan Lockhart said.
Playing without a league could result in Stockbridge playing lots of bigger schools for games and the athlete's motivation in playing may disappear without being able to win league awards.
 "I am very upset with the league breaking up," junior shooting guard Kegan Collins said. "I feel like there will be a lack of motivation to play games because you cannot win a league title. Also, I know college coaches look at your league awards like First-Team all-conference, Second-Team all-conference, Honorable mention and All-State. It's gonna be tough to get a college coach's attention when you are not capable of receiving these awards."
He is not the only athlete upset about this move to get out of the league.
"I am upset with the league breaking up," junior shooting guard Maddie Dalton said. "I have played against the same girls my whole career and we built rivalries with many of the teams within our league and not playing them will be a change I do not like."   
As of right now there is one league we are desperately trying to join and that is the CMAC. 
"At this point, I think the CMAC would be the best fit for us, and if that is no longer an option we have then we will need to become creative," Jacob Robidou the varsity men's basketball coach said. 
There was a meeting on Monday, February 6th to try and join the CMAC and three schools presented their respective school to the CMAC. Stockbridge, Perry and Lansing Christian all presented.
"We went and presented and it took about 20 minutes," Athletic Director Ernie Rivers said. "We had 14 slides that covered all the questions that they asked. These slides covered admin experience and the stability of the administration, commitment levels, and we were able to show a great video of our facilities that was put together by Jacob Robidou. We also discussed what the demographics would be and our enrollment numbers because these are sticking points."
Although they felt very confident about the presentation the CMAC has decided to accept Perry and Lansing Christian over Stockbridge. 
 "If we don't join a conference, I feel like the record of the regular season wouldn't matter as much because you are basically only playing to win playoff games," junior linebacker Gary Killinger said.
Leave a Comment
About the Contributor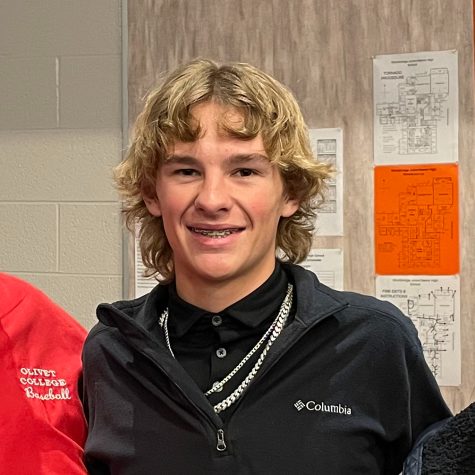 Joey Ballagh, Sports Editor
Joey Ballagh is a junior in Stockbridge High School and this is his first year as a reporter for Uncaged News. He likes to play soccer and football.