Makerspace decorates for Christmas
This December, the seventh and eighth grade Makerspace class decorated the chicken coop they have outside the school. With help and guidance from the Special Projects Lab, it gave the opportunity for middle school students to learn to use the tools they would be using in highschool. 
"It's a fun project," STEM teacher Robert Richards said. "In the end, they learned how to use a jigsaw, pain and transfer drawings from a smaller drawing to a larger full scale drawing. There were a lot of skills in there but they didn't even realize they were learning." 
Students were making decorations for their chicken coop for two weeks. The decorations can be seen from the windows of the classes in the seventh and eighth grade hall. Other students get a taste of Christmas spirit through the work of their peers. 
"My class helped cut out the wood for the decorations and we also outlined and painted all of it," eighth grader Emily Satkowiak said. "We put together the stands and hung the lights. I had the most fun painting."
The project was started in hopes of spreading Christmas cheer. 
"It was to spread the Christmas cheer around the school and do something different," Richards said. "Schoolwork doesn't always have to be filling out a worksheet and being bored to death. We can do something constructive, learn and then present our learning in a different way. So they're presenting the work they created in class to a public audience outside."
Leave a Comment
About the Contributor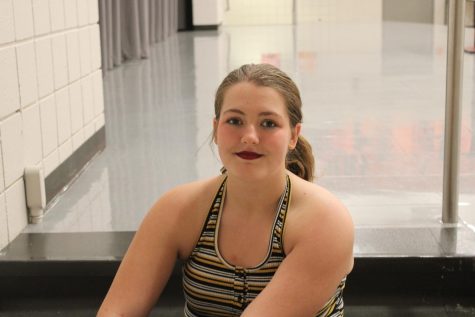 Jamie Phillips, Reporter
Jamie Phillips is a senior in high school, and a reporter and photographer for Uncaged. They're also a part of varsity softball and leadership. They...