SPOOKY SCARY STORIES
Tender Is The Flesh
Augustina Bazterrica
This book is a dystopian horror novel that talks about an event in the future called "The Transition." It started when an infectious virus made all animal meat poisonous to humans. Then the government started the new program. They made eating human meat legal. They explain this from the blurb and the very first chapter. The book takes place in the past and the present, switching between the beginning of the program and then the present day. This is intriguing to the story because it makes you want to read about how this world ended up here. Why do they think this is okay? How does the process work? I enjoyed reading about the government and mind-altering influences throughout the novel from both the workers and law officials. This book is very disturbing and sometimes hard to read. It makes you look at an alternate world and think, "what if I lived in this world?"

Verity
Colleen Hoover
This book is a psychological thriller that tells the story of writer Lowen Ashleigh. Lowen goes to Vermont to co-write a book for a very famous book series, by author Verity Crawford. The story is told from both Lowen's and Verity's points of view. This is great for the book because it makes it like a page-turner, you are constantly looking for more pieces to the story that you get from each new chapter. If you enjoy reading books that you can't put down, this is a great book to read. However, keep in mind that this book discusses a lot of heavy topics before reading. This book covers lots of traumatic things and truths about things behind closed doors. The story is a mix of psychological and scary, but it messes with your brain more than scares you.

If We Were Villains
When the book starts, you find out Oliver Marks, our protagonist has just served ten years in jail for murder. Oliver and 6 other people are studying acting at an arts college in Illinois. Things start to get competitive and one of the kids is found dead. The rest of the book is spent finding out who committed the murder, and why. I enjoyed reading this book because it felt like a dark academic book, and it keeps making you turn the pages because it feels reliable. After all, the kids are close in age. Despite the plot, the book feels very peaceful and makes you realize you aren't alone in the things that are assumed about you or how you are perceived. This book is a great book to curl up in a blanket and read while it's raining.

The Wicked Deep
Shea Ernshaw
The Wicked Deep is based on the movie Hocus Pocus. In this book, The townspeople of Sparrow hanged three sisters because they found them guilty of witchcraft. After their tragic hanging, the sisters return every summer. They steal the bodies of three girls so that they may get revenge for what was done to them. For 20 years, they've lured boys into the harbor to drown them. Penny Talbot is the main character and ends up falling in love with the new kid, Bo. They both distrust each other knowing the stories of the town. What people in the town don't know is that Penny can see things that other people can't. I enjoyed reading this book because I love reading and learning about the event of the Salem witch trials no matter how many times over. This book was an interesting, beautiful, well-written book.

Leave a Comment
About the Contributor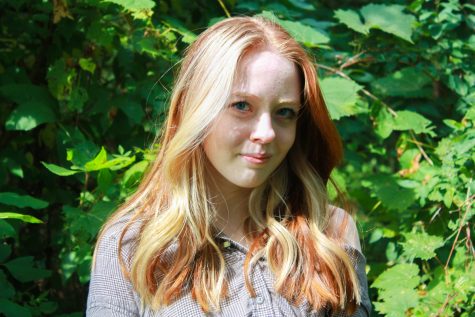 Ella Phillips
Ella Phillips is a Senior at Stockbridge Junior/Senior High School; she was born in Augusta, Maine, but now lives in Stockbridge. She enjoys reading, playing...