Senior Spotlights
Yarley Cervantez
Like many, COVID-19 derailed a lot of Cervantez's high-school career. However, this year things started to return to normal and Cervantez's was able to shine. Her favorite memory is being involved with both Homecoming and Coming Home. Cervantez's was voted onto the senior court for Homecoming, and she had the honor of escorting Dylan Smith, Coming Home's King. Cervantez's involvement doesn't stop there. She shines as a link, a student in leadership, and when she was on the volleyball court.
"I value work ethic above everything," Cervantez said.
Being involved and making those connections is what Cervantez is going to miss most.
Cervantez will be attending dental assistant school starting April 22nd. As she starts her new journey, a piece of advice that Courtney Fletcher gave, sticks with her, "one bad day doesn't mean you have a bad life," Cervantez said.
Dylan Smith
Stockbridge has been Dylan's second hometown for seven years now. Smith found a passion for football and grew Stockbridge's defensive line. Many memories stuck with Dylan Smith, but one he could never forget was in a playoff game versus Dundee.
"Zach Miller got a pick-six and won the game, that was my best memory," said Smith.
Not only was he a valuable part of the football team, Smith has also been a part of Leadership here at the school.
Many people have something or someone they love in highschool, when asking Dylan this question, his eyes would light up, Smith's happens to be his car.
"My speakers make me happy," Smith mentions.
Dylan is known for his sense of humor and contagious laugh. This is one of the many reasons Smith will be missed here at Stockbridge.
"I will miss my friends the most," said Smith. Dylan will move on to make new friends and memories as he continues his academic career in college, in the HVAC program.
Xyan Torrey
Torrey has been a Stockbridge native since he can remember. He can't pinpoint his best memory, but he's enjoyed growing up in a small town.
"I love the tightness of the community," said Torrey.
Throughout his years in the district, he has participated in a multitude of activities, but soccer, quiz bowl and band stand out the most. In everything he does, Torrey is conscious of his work ethic. In fact, his advice to the underclassmen is to have a good work ethic.
"Just be good at working and don't fall behind on your work because then you will not catch up ever," Torrey said.
Torrey also advises the underclassmen to listen to their teachers.
"Be nice to your teachers because they are the ones who will teach you the things that you need to know in order to graduate," Torrey said.
Though he says that all teachers should be respected, he does have a teacher that stands out the most.
"Ms. Martell [is my favorite teacher] because she's very understanding and helps anybody who needs it," Torrey said.
Next year, Torrey will be attending a community college with plans to transfer to a university.
Harlie Robinson
Robinson's been a part of Stockbridge community her whole life. During her time here, Robinson has made many long and lasting ties with people she grew up with throughout grade school.
However, Robinson found her true passion outside of the school walls: barrel racing with her horse, "Lady." Robinson has competed in numerous races, taking home multiple trophies. With trophies and ribbons, comes recognition. Harlie and Lady will continue to do what they love at Michigan State next year while Harlie majors in Special Education.
Throughout everything, Harlie has had support from her family and she could not be more thankful.
Harlie finds joy in being home with the people she loves.
"I value my family the most," Robinson says.
Leave a Comment
About the Contributor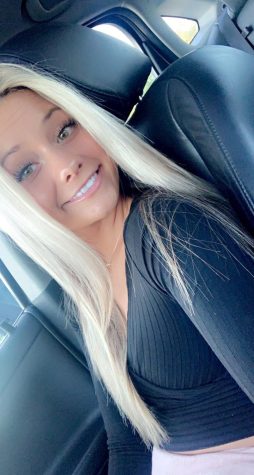 Gracee Robidou, Reporter
Gracee Robidou is a Junior at Stockbridge High School. Gracee was born in Bozeman, Montana. She is a student athlete and takes pride in her competitiveness...