Holiday movies you may have missed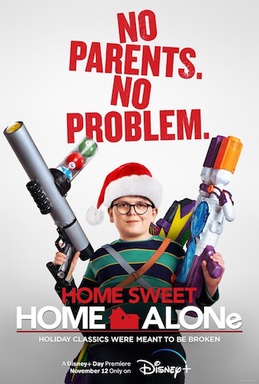 'Home Sweet Home Alone,' not a very sweet movie
The latest installation of the Home Alone series by Disney, "Home Sweet Home Alone," features Max, the main character, who is left home alone on holiday break as his parents failed a headcount of all the children. When they realize they left Max, they are already in Tokyo. 
In an incident the day before, Max and his mother stop at an open house so Max can use the bathroom, where an owner of the house, Jeff, for reasons unclear, brings out a box of his mother's antique dolls, one of which has an upside-down head, and invokes a passive-aggressive argument between Max and Jeff.
The doll is briefly forgotten, until Jeff realizes that they could sell it to keep the house. But, when Jeff retrieves the doll, it is unexplainably missing, so he assumes that Max stole it.
He and his wife attempt to steal the doll from Max multiple times, but because Max hears the end of a conversation while they were in his house, he believes that they want to kidnap and sell him, and not the doll. 
As typical for the Home Alone franchise, Max then creates numerous traps throughout the house, injuring and slowing them. 
"Home Sweet Home Alone" is not an enjoyable movie, and you should really not waste your time by watching it, as this movie punishes two parents in financial troubles who are unable to keep their house. The injuries that they acquire are in bad taste, where in past Home Alone movies, the burglars were rightfully punished. 
The movie does contain slapstick humor, but is unenjoyable, and has poor attempts at witty humor. Some injuries are disturbingly detailed, such as getting a close up of a thumbtack piercing into a fingertip, many thumbtacks being shot into a character's face and arms, and a pool ball shot onto Jeff's forehead, leaving a disturbing purple-red bruise. 
Overall, "Home Sweet Home Alone" is a regret watching it. 1 star
'National Lampoon's Christmas Vacation,' a vacation from bad movies
Released in 1989, "National Lampoon's Christmas Vacation," is a holiday movie following a father who wants to have a perfect family Christmas, however, as he tries to go above and beyond in preparations, various twists of bad luck cross his path, from simple moments of forgetting to grab a saw to cut down a Christmas tree, to surprise family members in an already crowded house. 
The beloved movie has great surprise humor, delivering frequent unexpected twists and turns throughout the movie, and even when a joke is somewhat predictable of how it will turn out, it usually has an unexpected aspect at some point. The movie offers  great foreshadowing, briefly showing or mentioning the possible consequences of actions, allowing you to realize what is about to happen just in time. 
However, there is a part of the movie that features the blatant mistreatment of an animal, and even the death of the animal, so be warned. Overall, "National Lampoon's Christmas Vacation" is an enjoyable movie, which features the gradual mental deterioration of a father preparing for the holidays. 4 stars
Holiday Movies
Classic
Holiday movies vary from comedies, romances, dramas, animated movies, classic holiday stories, to even horror. But what is the favorite holiday movie among the high schoolers in our school? According to a poll, it's a tie between "Elf," with 47.8% votes, a comedic family movie, made in 2003, and "The Polar Express," also with 47.8% of the vote, a fantasy family movie made in 2004. "Rudolph the Red-Nosed Reindeer," a fantasy family movie, came in third with 39.1% of the vote, and was made in 1964.
Obscure
It can be hard to find good movies, and some of the more obscure ones may be better than one may think. Some of the high school students that responded to a poll gave some obscure movies that they think are good. 
"Abominable Christmas," made in 2012, an animated comedy movie.
"Black Christmas," made in 2019, a horror/thriller movie.
"Jack Frost," made in 1997, a horror/comedy movie.
"Naughty or Nice," made in 2012, a fantasy/drama movie.
Is 'Die Hard' a Christmas movie?
There are numerous movies that are watched during the holidays, for some people, one of those movies is "Die Hard," an action movie made in 1988, focuses on John McClane, an NYPD officer who has to save his wife and many others after German terrorists attack a fancy Christmas party. 
However, even though the movie has a Christmas setting, but is not always centered on that fact, has created arguments on whether or not "Die Hard" is a holiday movie. In a poll sent to the High School students, of the twenty three who responded, only six have seen "Die Hard," and resulted in a tie on if "Die Hard" is a Christmas movie or not, three said yes, and three said no. So the question on whether or not "Die Hard" is a Christmas movie or not, will remain unsolved.
Leave a Comment