Fall round-up: Sports seasons final standings
FOOTBALL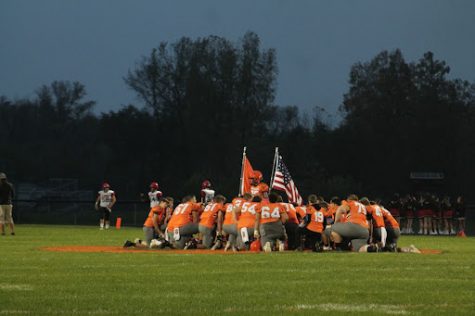 The varsity football team ended the season with two good wins after several gains and losses. The team got two good wins to end their season. After beating St. Charles 28-14 for a win on homecoming night, their next game was against Dansville, which they ended up winning 20-14 in a super close game. This victory gave the seniors their last win of their season. 
"We are all really excited and happy, senior night was a little tough because it was their last football game most kids are ever going to play, but it was really good after those games," senior Jeremy Pilch said of the last two wins of the season. 
Several seniors this season who worked hard over the years. These seniors had important roles on the team because of their experience and it being their last year. 
"They have improved a lot on leadership. We are all seniors this season, and I hope I helped them all improve on leadership. I also helped them just grow as an individual as well and to not get frustrated with themselves," Pilch said. 
Over the season these seniors saw the improvements that the team had made.
"We definitely improved a lot on leadership and team building throughout the season," Senior Drew Philipp said. 
The team improved over the season and ended their season with a 4-5 record. 
VOLLEYBALL
This volleyball season, the team had many highs and lows. The common thought that the players agreed on was that over the season they improved on teamwork and communication. Even though their record was not what they wanted, the end of the season seemed better. They were communicating better in their last games, making them more fun and helping them feel more together as a team.
"We learned to work together throughout the season," sophomore Gracee Robidou said.
"I think my team improved most on communication and talking with each other," sophomore Maddie Dalton said.
In the team's win against Maple Valley the communication was amazing, creating a fun win for the girls.
The team is headed to districts on November first in Fowlerville to end their season. The team is hoping to get another win to end their season. There are a few key focuses for their last games of the season, which would be to keep their heads in a good place as well as keeping good energy. 
"I think the most important thing is to keep a positive attitude," said Robidou. 
The Panthers will play Williamston  in their district game.
"I think we need to have fun and keep the energy up," Dalton said. 
The varsity volleyball team ended their season with a record of 7-20 after losing a tough game to Williamston is districts.

GIRLS CROSS COUNTRY
The girls cross country team ran a season to remember. They competed all throughout their season for the league championship. They were tied several times, but did not want to lose the opportunity for a  league championship.  They battled back in for all season, but in the end pulled through with everything they had to get the win.
"It really feels great because it was one of our biggest goals throughout the season," senior Brooklyn Rochow said. "It was actually on the line. We were actually tied throughout the season for a league championship. So, it feels really good to come out with a win."
The team improved lots over the season, which helped a lot to get the league championships. 
"Our overall improvement was really great. We have had a lot of new girls this season that have never ran before in their life, and they improved so much this season," Rochow said. 
The cross country team ended its  season with a league championship.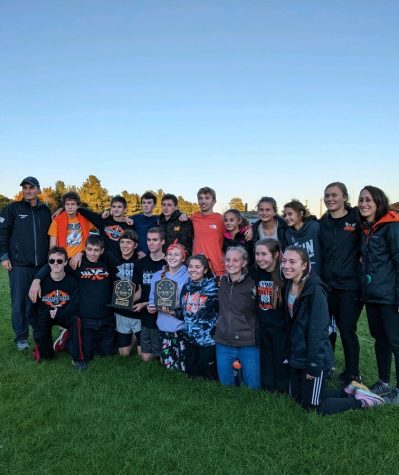 BOYS CROSS COUNTRY
The boys cross country team ran exceptionally well this season. The boys had a special bond this season, which contributed to the team success. 
"It feels amazing because this team just has some kind of special feel, the team chemistry is just amazing. It just feels great to get a win with all these guys," Junior Micah Bolton said. 
They ended their season with a league championship, which was very special for the group of boys they had because of their special bond. They all had the same goal in mind for this season, which was to win. 
"We put in a lot of work this season and we're looking forward to the rest of this coming season." Senior Dalton Satkowiak said. "We started the year pretty small staffed, and with not a lot of runners, but we strengthened our runners that we had." 
After a successful season the cross country ended their year with a league championship. 
SOCCER
The boys soccer team had many new players this year with a new start and lots of learning to be done at the beginning of the season. In 2020, seniors dominated the roster bringing lots of experience, so this year there were lots of big changes for the team. 
"I think that even though there was a lot of struggle in this season, there was a lot of growth in the team, our team was very new. So, I think that the team's ability to come together even though it's such a young team, and still have some success was very good," Senior Jonah Huskey-Wright said.  
The team improved on the ability to talk to each other, which overall benefited them as the season went on. 
"Communication. It started off rough in the beginning. But as we got to know each other more and work on it, it got better," Senior Carson Oversmith said. 
They ended the season with a huge district win.
Leave a Comment