Girls varsity volleyball team brings home first win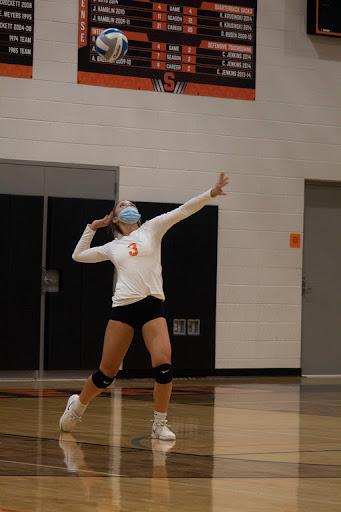 The varsity volleyball team netted their first win of the season against Quincy this past week in a competitive match, going into all five sets. The Panthers still came out on top with their first win after a long fought battle. 
Back row specialist Sarah Lackey is the only senior on the team and has also been named one of the captains. After the win, Lackey reflected on the tough game.
"I felt pretty good," she said. "It was slow in the beginning but we all worked as a team and the win felt good." 
The team working together and their close bond seems to be a common thing that helps this team achieve what they do. 
"We get along very well on and off the court," sophomore outside hitter Gracee Robidou said. "It is just kind of like a bond we create when we play volleyball." 
As a team they really have to make sure they are lifting their teammates up, especially in close games like these when everything matters to get the win. 
"My biggest strength as a leader is to really get our team hyped up in order to get the win," sophomore middle hitter Maggie Jones said, who is also one of the chosen captains this year.  
Leave a Comment