Oh, the places you'll go
Brian Friddle joins Stockbridge Community Schools as new superintendent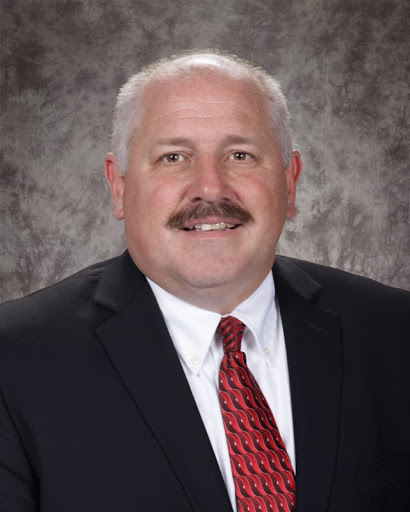 Cat or dog? He's a dog person.
Plain or sweet tea? He loves sugar.
Summer or winter? He prefers the warm days.
The search for a new superintendent is no more. The board of education installed Brian Friddle as district superintendent in April. As he makes the move from the similarly small community of Webberville, students will quickly learn his preferences are much like their own.
Friddle wants students to know that, "Even though summer is his favorite season, he's not in school." Therefore, winter is actually his favorite time of year. "If it's summer you can't see the students and staff." 
Friddle is a figure driven by his work and looking forward to the days ahead. Thus frustrated, he wishes he could be in Stockbridge but needs to tie up loose ends at Webberville.
So, what does this mean for the students in the Stockbridge? A new superintendent and one with an idea for the future.
"Dr. Karl Heidrich had announced his retirement at the end of the 2019-2020 school year," Cindy Lance, board member, said. "We had started the search in January of 2020." 
After a lengthy process to find a good fit for the lead job in the district, Friddle will be transferring this summer to be part of Stockbridge Community Schools. 
Friddle hopes to create new opportunities for students, faculty and staff.  
"I don't have a preconceived notion of what I want to do because it's a learning curve with 
Stockbridge," Friddle said. "What I could think would be something you guys could or may be already great at." 
Simply put, he won't know what to enlist into the community until he sees its strengths, and weaknesses, along with understanding what programs are already in place. 
He plans to be a part of the community, not just in school but in town and on the field or whatever sporting event he can make.
"I kept hearing the same thing over and over about how the staff and people just loved the community and students," Friddle said. "I was actually trying to get them to say something different, but I couldn't."
Friddle's excitement to join the small community is grounded in his desire to "be something bigger than himself." 
Stockbridge offers vast amounts of opportunities that a lot of other schools do not have in the district, such as "AP classes, robotics, journalism and more," according to Friddle.
With outstanding programs, he wishes to create more opportunities while understanding the hardship everyone has endured this past year. 
The exposure to opportunities and trying to make everything as normal is his goal. 
"This year has been hard with communicating with the loss of so many things that everyone endures," Friddle said. He finds a priority in, "managing all of this and still trying to provide opportunities."
Not only has he seen it in his home district of Webberville, but also in his family, with his daughter who is nine years old and planning to attend Heritage next year. 
"Mr. Friddle comes to us with strong years of experience from Webberville Community Schools," Lance said. "The community has very similar demographics to Stockbridge, with many of the same challenges."
Not only is his experience at Webberville an asset but also is his background in counseling. In the decision process this really stuck out.
"Social and emotional well being of students is a passion [of Friddle's], and not surprising with his extensive background in counseling." Lance said. 
Of that experience, Friddle said that "I really enjoyed my time as a guidance counselor because I am helping people find their way in the world," Friddle said. 
Whilst catching up with a former student of his from 15 years ago, he found himself amazed at the person she had become and said, "That's what my job is about."
Not only did Friddle feel like he would fit into SCS but others did as well. 
"SCS is an amazing place of many academic offerings, and celebrated successes.  We have an amazing group of administrators and phenomenal staff." Lance said. "Mr. Friddle will fit in well and contribute to the future achievements."  
Friddle will officially start July 1.  Lance encourages community members to "stop by and welcome him to the community!"
With his eager arrival to the community Friddle has goals, and they are not shy from greatness.
 "My goal is to build relationships and to continue to provide opportunities for students and staff. My experiences I have had in my past to bring here. The question was and has never been, 'What is a good fit for Brian Friddle, but what is a good fit for Stockbridge?'" he said.
The class of 2021 will not be able to experience the next year with superintendent Friddle, but others will. 
He comes across as someone who is empathic, sees the hardships everyone has faced and wants to let his staff and students and community know that he "is there for them." 
Top of his list of to-do when he arrives includes, "What are the impacts on this pandemic? How can we proactively progress what Covid-19 has done and what has gone unseen." Friddle said. "What do kids need next year vs. what they needed in the past. We need to find opportunities as they transition from school to school and school to career."
Leave a Comment