Spring trends come rolling in with chill vibes
Hang on for a minute...we're trying to find some more stories you might like.
Sunshine, crisp air, and the vintage California beach style look gives this spring a new outlook on fashion and the days when longboarding and playing the ukulele is the chillest thing to do. Repeating the trending styles of florals for the ladies and button-ups for the guys in the rural area of Stockbridge is difficult. Recreating these vibes can be easy, though.
To find trendy clothes for a cheaper price is all about the hunt. So, where to look?
"Online. Go to Amazon and shop around because you can find really good stuff for cheap," said senior Kaleb Losey.
Also, search in used department stores like Plato's Closet for a defining style.
"Thrift shops. You can get a lot of the same looks for half the price," said sophomore Madison Dunlap.
Some of the trendy items for this spring are more of a boho-hip look.
"The bohemian look with crop tops and high waisted shorts are really in for girls," said former fashion and beauty vlogger Gracie Cavender. "Boat shoes and the boating look is really in for the guys."
When determining a style, people will develop a look based on a collection of pieces they are inspired by.
"I get my style from a range of what I see. If I see someone with something that I like I pick that and pull from other styles and then I get my style," said Losey.
It is easy to get trends started because it just takes a few people to influence others.
"I think it just takes a couple people to wear something trendy and it just spreads from there," said Dunlap.
It is time to develop an exclusive look that individuals can make their own.
"What is in style is being a unique style," said Losey.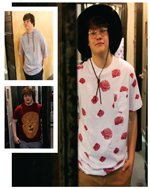 Roarin' with confidence.
Burgundy, gold, and gray seems like an awkward combo, but piecing this together gives it a modern sleek look to wear around the house to be comfortable and fashionable.
Comfort comes with Class.
This grey short sleeved hoodie and the dark shorts to match add a good contrast of color and style to this comfortable but modern look. This works well by not being too dark for a warm spring day, but is enough layers so the chill of the wind doesn't get to him.
Roses without the thorns.
Florals on guys don't have to be feminine. Gabe decides to show off his soft side while he is rocking this floral tee and some khakis.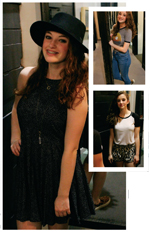 Dark Colors are Light.
This white dotted black dress is made with a light airy fabric and a loose fitting allowing this to be a comfortable fit for a warm spring day. It has a high neckline and an open back to show little skin, but cover up just enough to still be modest. Madison added a nice sun blocking black hat and a crystal rock chain necklace to complete this look.
Simple is Complex.
This baseball inspired loose tee works well with the loose daisy printed shorts that have lace embellishments at the edges. This is comfortable and simple, but is also cute and stylish. These pieces work well on a warm lay around the house day and a quick run around town.
Sunsets and Bonfires.
This mexican inspired painted tee shirt works well with these light colored high waisted jeans because it is a quick easy combo. The sunset on the shirt makes this an evening casual look great for the upcoming bonfires.
About the Contributors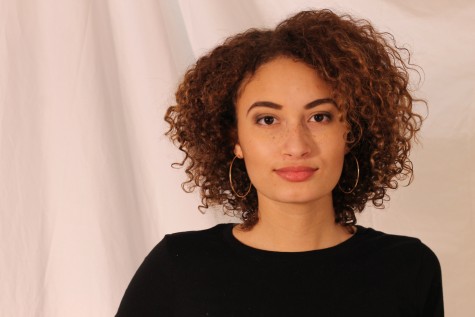 Brianna Gomez, Editor-in-Chief
Brianna is in the 12th grade and is an Editor-in-Chief on the Uncaged staff. She is an activist and when she's not in the news room she likes to sing,...