Become aware of your surroundings
Human smuggling occurs regularly in Michigan, awareness saves lives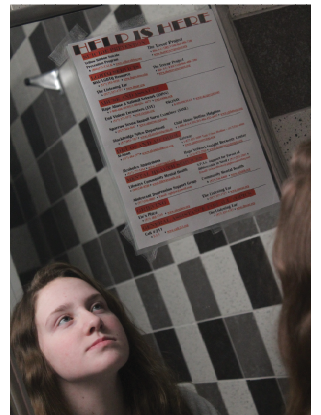 Seemingly, every day a story runs about human trafficking in the local news. It happens at stores, parking lots, on the street, even in parks.
Human traffickers do not just prey on children, but also mothers, young teens and sometimes even older men.
In 2017, 309 cases of human trafficking were reported to the helplines in Michigan, an increase from 251 reported cases in 2016 according to annual data released by Polaris, whose mission is to act as a leader in the global fight to eradicate modern slavery. Awareness seems to be making in roads as a decreased 176 cases were reported in 2018.
Law enforcement officers promote constant vigilance for when young people are out in the public.
Security guard Strzyzewski who works at Henry Ford Allegiance Health said, "Always be aware for people who are valuable, and maybe be preyed upon."
Hold children tight. Never turn a back to young children because it gives a trafficker a chance to grab the child and by the time you turn, they will have disappeared

Officer Davis who works at Henry Ford Allegiance Health said "always be aware of your surroundings."
If a human traffickers grab you, the first thing you should do try to scream, kick, or just smack your head against his face. Do whatever is necessary to draw attention to yourself.
Imaginably, human trafficking can leave the victims scarred. Victims are sold around the country, abused or worse: sex trafficking.
It can start simply by predators who will ask young ladies at the age of 18 for a job, such as dancing for a music video or modeling. When girls apply for these jobs, they get into a trap and become a sex trafficking victim, where they may never escape.
Officer Kevin Marshall of Stockbridge advises, "If you do agree to meet someone online, go to a public place or go to a mall and bring a bunch of friends."
Other ways these smugglers get these girls is by using a fake user online or known as "catfishing." They use Kik, Snapchat, Instagram, Facebook, or sometimes online dating sites to get these girls to come and meet them.
"Always keep in mind," officer Marshall said, "while online you might need to check who you are talking too because you don't know if they are a fake user."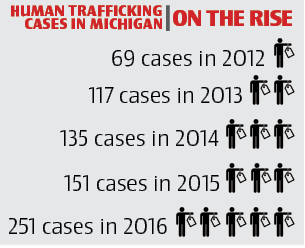 Why would these people put in so much pain and suffering into these young children's lives. Do the traffickers do it for the money or they're just sickly disgusting?
Children or young adults at the age of 5 to 18 have been smuggled into labor trafficking or to do service labor or inappropriate acts.
Once in a trafficker's hands, a syndrome known as Stockholm Syndrome can set in for victims,  which could lead them to do things they thought they would never do, such as going to stores and trying to talk to children and sway them into a traps.
The punishment for human trafficking takes 10 years to life in prison if the victim is abused or killed or in any sex acts.
The Michigan State law requires fines for human trafficking from $10,000 to $50,000 depending upon the circumstances of the crime.
By the time you read this, 7 people will have been trafficked across international borders. They are mostly females and half are children.
Call 911 immediately or the Human Trafficking Hotline at 1 (888) 373-7888 if you are aware of any trafficking situation.

About the Contributor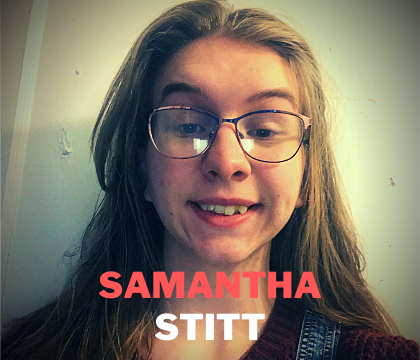 Samantha Stitt, Features Editor
I think of myself as a confident person, a person that takes risks if need be. I also think of myself as someone you can rely on if you need someone to...