Online classes rising up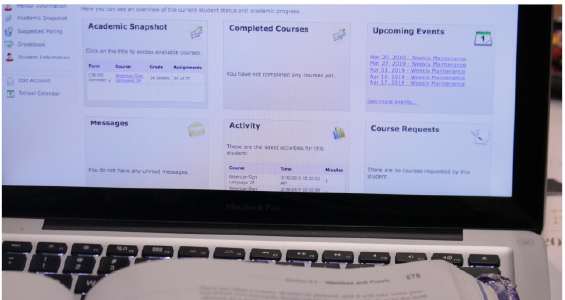 When you first walk into the room, the only sound you can hear is humming of the air through the vents. After you take a seat, the low mumbling of students talking rises. They are slumped over their computers doing their work. Yet, there are a few hiding in the corners playing on their phone and listening to music.
This is what the media center looks like during the early morning hours of school. However, in a era where mobile technology and chromebooks are prominent in our lives, what is happening ever so quietly is schooling.
The virtual curriculum compared to a traditional school offers more than just the necessities, it offers classes that are to interesting to students. "I knew that I had wanted to at least try something new that the school doesn't have to offer in an actual classroom," junior Sarah Steenbeke said.
Taking an online class that shows how a future job may be can help a student see how it works. "I decided to take psychology because that is one of my biggest choices for my future as of right now," Steenbeke said.
One of the big reasons why students take online classes is because they can work at their own speed. "Being able to track your own pace and how well you do your work without being told by a teacher gives you independency," Steenbeke said.
Working online means working at a comfortable self-made pace.
It also means finding the motivation to get it done. "Sometimes, if I'm feeling overwhelmed, there will be days where I won't work on it all, and others where I'm breezing through it, " sophomore Brooklyn Baker, who is taking American sign language, said.
Michigan Virtual, the local online school, is a non-profit organization that offers distance learning while based in Lansing, Michigan. "Our student pass rate is significantly higher—more than 25 percentage points higher—than the statewide average for virtual learning," wrote Michigan Virtual on its website.
Online classes allow adaptability that would not be seen in a regular class. "Part of the beauty of online courses lies in the flexible nature of learning, which allows students to work at their own pace and wait until concepts are mastered before moving onto the next lesson," according to Michigan Virtual.
With online, a student can work on the subject until ready to move on, a concept that does not work well at a traditional public school.
However, just because the class is online, does not mean a student does not want to work in a classroom environment. "The new environment in the Media Center is hard for actual students trying to do their work, since it isn't considered a library anymore, there is tons of commotion," Steenbeke said.
Because the classroom for online is the media center, sometimes distractions are inevitable. "Sometimes their friends will come in, and they see it as a open room, and distract one another," Killinger said. The students who come in do not always see it as a classroom for online.
The media center is not just limited for students taking an online class. The room may also be used for presentations for other classes and purposes. "When the other classes come in, the bigger ones, it can be too loud and distracting so they ask to go sit in the booths," said paraprofessional Kim Killinger of virtual students.
Taking online can help a student be better prepared for the future world of deadlines. "We won't constantly have someone there to push us and get our work done," Steenbeke said. It helps show how the future may be, that the motivation to get the work done will have to come from within.
With more and more high schoolers taking online, fewer students are in traditional classes. Over the past five years, the school's online enrollment increased from 65 students in the fall of 2016 to 77 students online in the fall of 2018, which includes alternative education students, according to counselor Leslie Cummings. In terms of achievement, "75 to 80 percent of the students I mentor at the high school end up passing their online classes," Cummings said.
Just because the teacher is not visible to the student, does not mean the teacher is out of reach. "We meet students where they are and help them to set the pace of their own learning," according to Michigan Virtual.
Even though there is a screen between does not mean they do not have access. "I can almost always message my teacher if I have questions," Baker said.
According to A2Z Home's Cool, a homeschool organization, Michigan had "1.6 million kids enrolled on line from the ages 5 to 17 in 2017-2018. In the year 2016-2017, over 48,000 kids enrolled in online. While in the year 2017-2018 nearly 50,000 kids enrolled online."
The appeal of working at a comfortable pace and taking a subject not offered at school can be appealing, making more and more kids enroll online, causing a increase in online schooling.
Leave a Comment