Arctic Monkeys take giant misstep with 'Tranquility Base Hotel & Casino'
With cryptic recordings of a cardboard complex flooding the internet with a mystery that has sparked a mass anticipation among the fans that discovered this group on the same platform over a decade ago, the Arctic Monkeys have come back from a 5 year hiatus to release ¨Tranquility Base Hotel & Casino.¨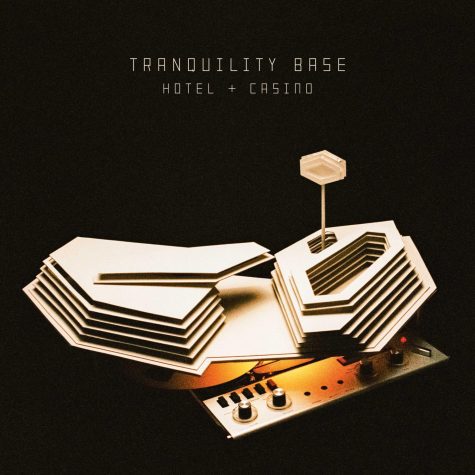 Pioneers of the internet rock sensation, The Arctic Monkeys have gone in a completely different direction than they have ever taken before with this new album, and I, frankly, miss every one of their old sounds with all of my heart.
As the band has evolved from a ska influenced London alt-rock band to a more dark and twisty group, playing with moaning melodies and startling chords, they have reached a new stop that sounds as if it is a recording of a drunken Nordstrom's piano player who is stuck in the 70s.
A loved characteristic that has always been apart of the Arctic Monkeys is the hyper catchy songs that will pump you up, no matter the topic, from "When the Sun Goes Down" to "R U Mine?" But, that has been taken away in their latest LP and been replaced with a tracklist solely made up of boring, sickeningly smooth and slow, songs that leave your mind as quickly as they entered.
One thing that is incredibly hard for an album to pull off is having every song have a very similar tone and sound. The only album that even comes to mind is "A Crow Looked At Me" by Mount Eerie, and this only works due to the raw emotion and realness associated with grief that is shown so well in the album. "Tranquility Base Casino & Hotel" is incredibly far from pulling this off. It feels as if you are listening to one song that drags on endlessly.
Even though there are many things this album does not do well, there is one song should be commended.
"Four Out of Five" brings a bassline more lively than the rest of the album combined, and I just couldn't help but to sing along to the dark and dreamy chorus masked in a light tone. The haunting synths that poke their way into the song also bring an edge that is missing from so much of the album.
There is a large amount of this album that I feel like is a chore to go through, from the constantly similar vocals to the tedious instrumentals that plagued a majority of this album. Although, I will admit, the album does get a noticeable amount better in the second half. Overall, I would give "Tranquility Base & Hotel" a 4/10.