Introducing: Kimberly Higgins
Hang on for a minute...we're trying to find some more stories you might like.
At first glance this looks like an ordinary skyline picture with a sky tram in it. It means way more than just that to me, though.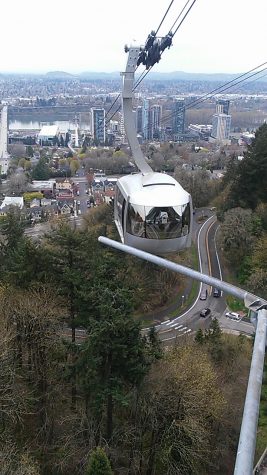 I took this picture in Portland, Oregon on April 4, 2018. I feel like knowing when and where is a necessary detail.
When I see this picture I remember the feeling of panic and amazement I had since I had just gotten off of the sky tram and, I mean, look how high up it is.
This picture reminds me of starting new chapters in life. I will be moving to Portland, Oregon this summer, and will be going to Portland State University in the fall.
Not only am I moving across the country and away from everything I know, I also am starting college, which is scary enough in its own.
I have very mixed emotions looking at this. I was scared at the moment when the picture was taken, but I was also really excited.
Looking back at it makes me kind of miss Portland. It also makes my mind drift to thinking about having to leave all my teachers, family and friends here.  
It's strange how looking at a silly picture of a sky tram can make you reevaluate your life. I see this and I not only see what is in the picture, I see my future.