How to throw a Galentine's Day Part-tea
With Valentine's Day right around the corner, single ladies all throughout the school are going to need something fun to do on a day filled with couples, heart eyes and third wheeling. Instead of staying at home by yourself and moping all day, you could spend a day sipping tea and eating cookies with your closest gal pals. Here is your guide to making sweets, eats and decor to share with your girls this Valentine's.
Pomegranate Fortune Cookies
What you'll need:
3 egg whites

¾ cup granulated sugar

½ cup butter, melted and cooled

½ teaspoon vanilla extract

1 cup all-purpose flour

4 tablespoons pomegranate juice

Red food coloring (optional)
Directions:
1. Preheat the oven to 350 degrees F. While preheating, fill out fortunes on small pieces of paper. Line cookie sheets with parchment paper.
2. In a large mixing bowl, whip together egg whites and sugar with an electric beater on high until frothy, about 2 minutes. Then add in melted butter and vanilla and mix until combined. Add in flour and mix well. Then add in pomegranate juice 1 tablespoon at a time until your batter is thick and fluid. Add food coloring if desired.
3. Spoon a tablespoon of the batter into 2 circles on the baking sheet. Use the back of a spoon to spread the batter out very thin. Don't do more than 2 at a time as they harden quickly once you take them out of the oven and can be tricky to mold.
4. Bake for 5-7 minutes until the edges begin to brown. Quickly remove the cookies from the baking sheet one at a time and place a fortune in the center. Fold the cookie in half and then fold the ends together to form the fortune cookie. Cool in a muffin tin to hold shape. Repeat with the remaining batter.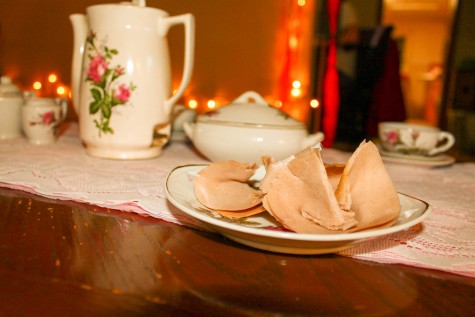 Zabrina Yannella
DIY: Tea bags made from coffee filters
What you'll need:
coffee filters

stapler

string

tea of your choice  
Directions:
Cut coffee filters into rectangles.
1. Put tea in the center (base your amount on how strong you'd like your tea to taste).
2. Fold the sides over in the middle.
3. Set your fingers in the center then fold two sides up on to each other.
4. Fold the top down and attach string with a staple.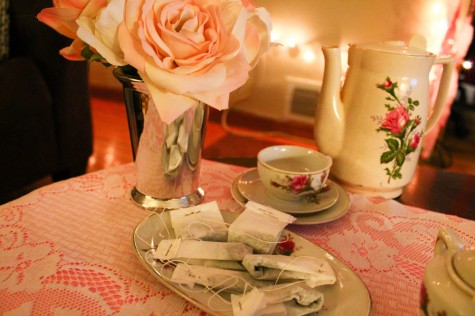 Zabrina Yannella
How to: Make a photo wall backdrop
Fringey Streamers:
what you'll need:
Directions:
1. Cut off a 2"-3" piece of crepe paper.
2. Start making evenly spaced cuts on one side leaving room in the center. Repeat on the other side of the crepe paper.
3. Muss up the fringe on both sides, separate the layers and scrunch it with your fingers.
4. Unroll and hang.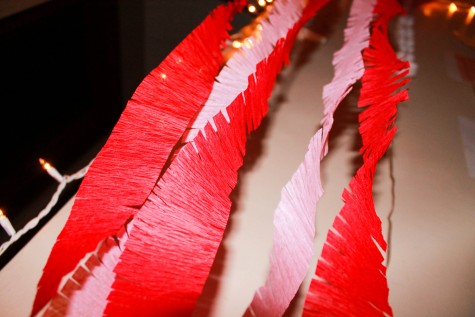 Zabrina Yannella
Paper Heart Chains
What you'll need:
stapler

paper (red and white work well)

scissors
Directions:
1. Cut paper into 1 inch wide strips
2. Fold in half
3. Staple, staple, staple until the chain is to your desired length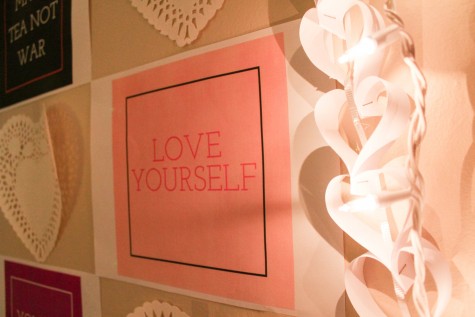 Zabrina Yannella
Optional Backdrop Elements:
balloons

quotes or small graphics

strings of lights

doilies

hats, glasses and boas to dress up in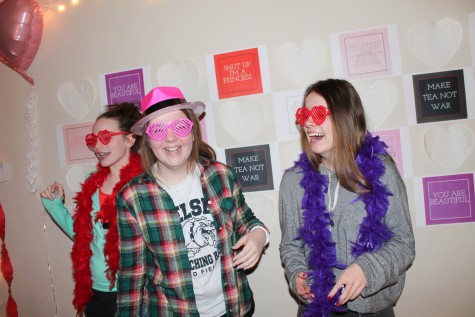 Zabrina Yannella
Leave a Comment