My 2020 COV-19 experience
Samantha Stitt Freelance Reporter
https://www.facebook.com/
groups/241767583619699
May 14 2020
Finish some new paintings: the first one is from a Cartoon Network show called Adventure Time and then the next one is a Star Wars theme between Rey and Kylo Ren if you guys wanted to know 😁😁 I'm adding things to this door every day or when I have time 😊😊😊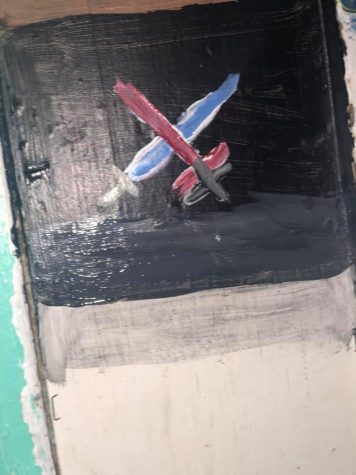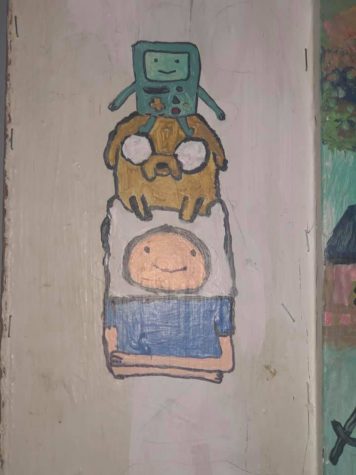 May 14 2020
Thursday: Today is my nephew's birthday and it's his first birthday, he won't remember his first birthday but one day he will remember this experience when his teachers or even family talk about how 2020 was like. Today we are going to make Greyson's first birthday special 🥰🥰🥰
May 13 2020
Wednesday: I did some doodles on my crocs and looks like I did a pretty good job on it.
❤️💕😊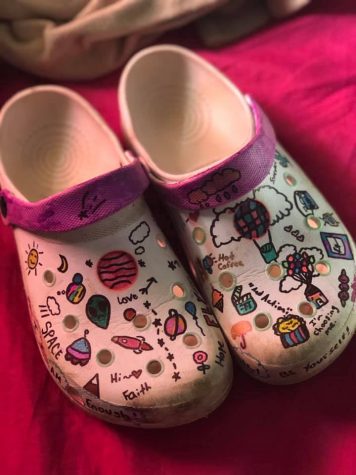 May 3 2020
Sunday: The sun is out and so we are doing some landscaping today. 🌸🌼🌻🌺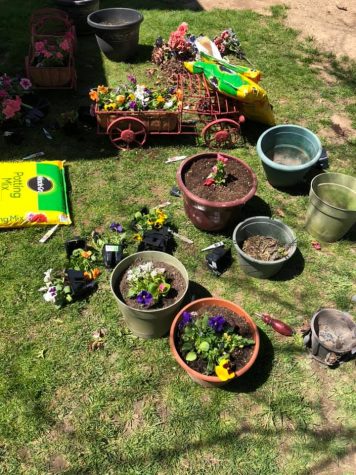 May 2 2020
This time right now is hard for some people, but always remember that someday we are going to look back on this and going to love the memories we did have with family we were able to see and the new things we learned, or learned about ourselves. I don't like staying home but I like staying with people that love me 💕
April 27 2020
Thank you grandma for my mask! Fits me well 😊😊❤️ By the way, if you don't have X-ray vision, I am smiling under the mask lol 😂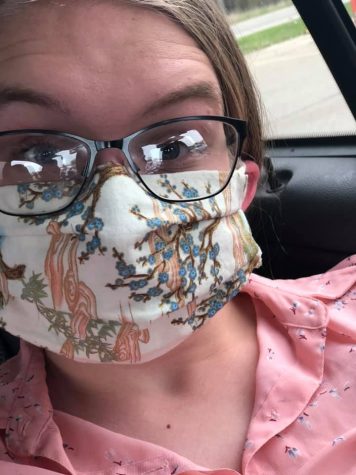 April 27 2020
Today we start our Virtual Spirit Week. Our school is doing some fun things we can do at home.
Monday is take a picture with your favorite mascot.
Our dog Poseidon was our victim in the dressing up part, he was not very pleased with it.
Photo Credit: Aimee Whitaker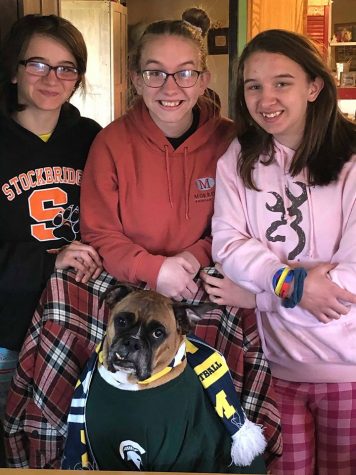 April 24 2020
We are going on a week of doing homework…from school…
Prior to the school assignments, the girls were working on reading & learning about famous people in history & Math games….
We have family meetings, explaining what is expected of them, what their consequences are, & to discuss their struggles & concerns & how we can support them.
We have made adjustments in the last couple weeks…
Set time frames & place of working on school work.
We have succeeded so far & the girls are working well & completing assignments & helping each other!
We are enjoying our learning time & I feel the girls will thrive from this experience 
<3
I am posting this because I want to remember this time to look back on & for the parents out there who are struggling..,(See your posts of frustrations)…Don't get frustrated…You are doing fine…You will be ok! I pray for you during this time because it can get overwhelming! Don't be hard on yourself…adjustments aren't always easy but can be done 
April 23 2020
Thursday: I got to go outside! I went grocery shopping with my mom, Aimee, and Dylan. I went to Wendy's with my mom today. I got to see my nana and dropped off some groceries to her.
To the future kids, probably right now you are thinking that staying home is fun because you get to play your video games and sleep in till 12 p.m. Well this time right now it's not so fun. I wake up and do the same thing every day. I eat breakfast, then I get started on my school work until 2:30 and sometimes I help make dinner or Aimee makes dinner, or we just order in. I try to change my schedule to not become so boring, but I'm not a homebody, I like to go, go, go. I like to go on long car rides or visit the family from time to time.
This is what 2020 was like though, I just hope for you future kids that you don't get this experience and be able to go places that you are allowed to go to.
We right now are not allowed to go to the movies. We are not allowed to buy things that are not essential. We have to be social distancing, 6 feet apart at all times. We are not even allowed to go to parks and let our kids play on the jungle gym. All parks are all blocked off.
We as students have to go online. Some people have to work at home or get unemployment. In the beginning, I was glad that we got to stop going to school but now I can't wait to go back to school in the fall. I am a senior who didn't even get to finish my junior, wasn't able to take pictures with all of my seniors, or even said goodbye to the ones who I would miss most next year.
I feel this time is hard but I believe it's somehow God's plan and I just have to wait and see what the future holds for me.
April 20 2020
Our little adventure! 🐸🐸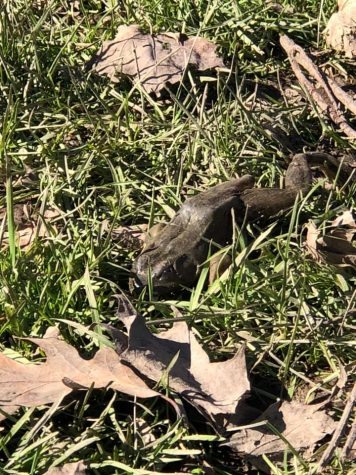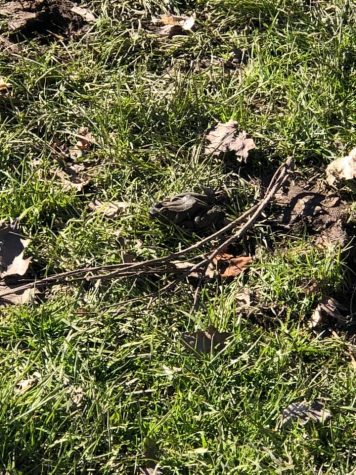 April 16 2020
Thursday: Yesterday I started my first day of online school. It's a struggle but I'm getting the hang of it I guess. 🤷🏼‍♀️
I never thought I would have to do homework again but here I am doing physics homework. 📚🧮✏️
April 14 2020
Cute little babies ❤️❤️❤️❤️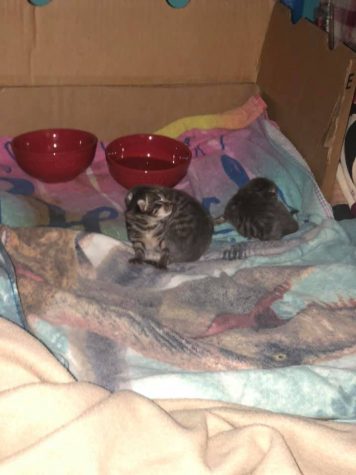 April 14 2020
Tuesday: What a crazy night I had. All I heard all night was crying from the kittens, waking me up thinking I am squishing them with my foot or I kicked it. Yeah, I didn't get much sleep. 😴😴
April 13 2020
We have another kitten, Daniel born at 11:52 April 13th 2020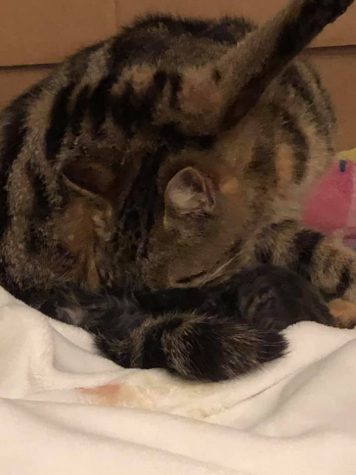 April 13 2020
Monday: At a 11:00 pm, my cat Lucy woke me up by crawling through my window which was cracked a little bit so no other critters will get in but Lucy pushed up my window with something coming out of her, my sisters and I grabbed a box and a towel and out came out new baby kitten, it was born on 11:11 and it's name is Willow. So this is my project, trying to figure out what to do in the middle of the night 😴😴😴
So I thought I would have a boring day but never mind thanks Lucy.
April 13 2020
Monday: This has been boring. I don't like staying home. I want to go places, such as, go to the movies or even a park. Are we going to have summer this year, will I be able to go camping this year.
Do you know what else is sad, i didn't celebrate Easter with our families like we always do. Which is the best part of a holiday seeing all my grandparents, my aunts and uncles and all my cousins.
I want 2020 to be over with and come in the new year with a good year.
April 12 2020
This Sunday is the day when Jesus Christ rose again and saved us from all sin so one day God will come back and save us all and bring us up to heaven with him. 😇💭🙏💭😇
So today let's pray for the families that can't be together and for other families who lost a love one because of this virus. ❤️❤️❤️
April 9 2020
Day 6 of me being in this lock down….
Since beginning of this…which I believe started March 13…correct me if I am wrong…but it's when the schools closed, Sports events stopped, Concerts were cancelled, church cancelled, Casinos eventually closed, pretty much the world stopping…I continued working to help take care of my families that were still in need of childcare. Every day our temperatures were checked & we washed our hands as soon as we came in & daily objects & classrooms were washed & cleaned through out the day. Alot of my coworkers took a voluntary leave, some were let go for the time being due to being no children in certain classrooms & eventually we combined classrooms with the children we had left. Rm 1 & Rm 7 were the only 2 classrooms that had children. Rm 1 ranged between 5-8 kids & Rm 7 ranged from 5-17 children…It was never consistent of who was joining us but it was always nice to see their happy faces 
<3
April 3, 2020 was my last day of working. Our numbers were dropping & the anxiety of others was needed to be taken care of. There were those that were afraid of contacting the virus and bringing it home to their families.
When my daughter & I came home from work on a daily basis, we would strip our clothes & rinse off in the shower. I feel I smelled like bleach for weeks due to all the cleaning I did. I would continue to go to the store for my mother & my family when needed.
We needed to schedule times to go to the store when we knew they were getting trucks & hope that we might be able to get supplies. Stores as of April 9, 2020 are still barely filled. Toilet paper, soup, pastas, baking needs, & some times meat were hard to find in stores. Even after Truck Day!!
My family worked outside the first week, cleaning the yard & getting rid of trash. We wanted to remodel but the stores were limiting things. They had to be essential & wood materials were not considered essential so we put our remodeling of the bathroom and kitchen on hold.
We visited my mom when it was nice outside & sat 6ft away from her. We limited seeing other family members due to their health conditions. We tried to limit our usage of gas due to it be restricted at times…gas station close to us ran out between April 6-8. We were concerned of other gas stations doing the same. Gas was going for $1,59 in some areas.
My girlfriend Shanna & I would meet up for bonfires, walks, or gatherings on her deck…spaced 6ft apart. Our poor kids had driver's training together & it's been postponed til this is over or they find a place to have their classes at.
Easter will be different this year. We plan to have a dinner & an Easter egg hunt in the orchard. We are with family & that's all that matters. Aimee, Dyaln & the boys moved in with us during this time. So we will make sure the boys & girls are happy. We will celebrate the rising of Jesus Christ! Our family will continue to pray for those that are in need. Prayers for recovery to those that have tested positive. Prayers for those that sadly lost loved ones during this time. Prayers for our Seniors who have to wait to graduate. Prayers for the children who don't get to finish out their school year or their sport's year……
It has been quite the difference for everyone….but we will get through it & we will come out stronger 
April 8 2020
Update on the Henry Ford employee's:
I heard that there are more cases testing positive for the Corna Virus. I don't know the exact number but about 600 cases now.
Still keep them in your guys prayers 🙏
April 6 2020
Yeah and now today we are worried about the storage of food and being 6 feet apart. Not having a job, or allowed to go places because they are all closed because they are not essential. Welcome to 2020 kids of the future. I hope in the future you learn about this experience and this experience teaches you that you wish one thing and sometimes that wish comes true and takes everything away from you. I wished that my junior year would go faster, well look, it did and I didn't even say goodbye to any of my friends. Didn't take any pictures with the seniors who are leaving off to college. I didn't even finish my classes! Yeah right now you are probably thinking how lucky I was but I wasn't so lucky because I lost a chunk of learning and I was stuck at home half the time. I hope you're junior year is better then my junior year.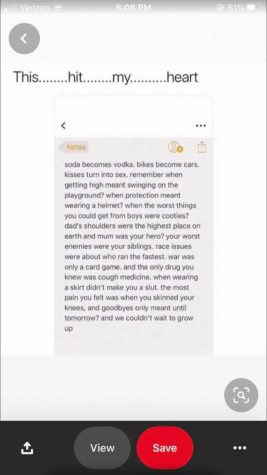 April 5 2020
There's no gas now! Great! I guess now we have to use bikes or walk to the places we need to go to. 😔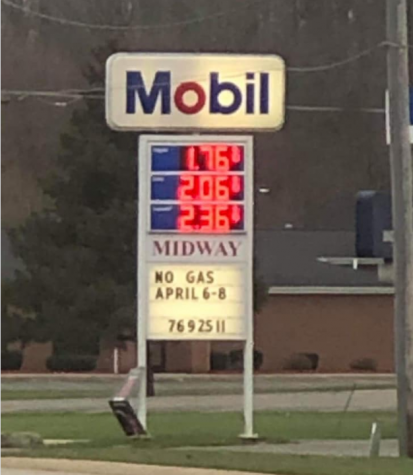 April 3 2020
Today: Teaching my sisters how to do cursive and the science project today is what animals can be frozen but when thawed out be still alive. We are learning some sign language so we can be teachers ourselves towards Beau and Greyson, teaching them a new language.
April 1 2020
April Fools! This virus is not a prank or a joke. It is not a dream you can wake up from. People have died. All stores and some companies have closed because of this situation. Malls, we walked around before this had to be closed down. The food we get from the store, the products to make stuff, even our toilet paper that was always stocked up are now empty in every shopping aisle. In the beginning of 2020, we thought it was going to be our year, well whoever ticked off the heavens, it turned out it wasn't nobody year. It turned into a panic, into another Great Depression. Future kids who read this; the Great Depression was a severe worldwide economic depression that took place mostly during the 1930s, beginning in the United States. But this is 2020, the new decade, the new Great Depression. Welcome!
March 31 2020
For the seniors who didn't get to walk down to get their diploma, or went to their last prom. I am proud of all the work that you've done and I am deeply saddened that the dreams of your last high school life had to be ruined because some guy had to eat a bat and spread a virus. But hey things happen for a reason, sometimes those reasons mess up plans but now you guys can go forward and make sure your other dreams come true. #Totheseniorsof2020
👩🏼‍🎓💙🧑🏼‍🎓💙👨🏻‍🎓💙👩🏻‍🎓💙👩🏽‍🎓💙👨🏽‍🎓💙🧑🏾‍🎓💙
March 30 2020
Happy Monday! This is the third week being quarantine. And today on this Monday morning I'm going to talk about how stupid people are during this time. Like I heard that there was a "Corna" party of 47 people in one house and the police had to go over there and stop the party. How stupid! We are trying to stop the virus so we can go back to our normal lives. Half of us have jobs and things to do people 🙄. Sigh,* just keep praying that this virus will pass through us and everything go back to normal. ❤️❤️❤️
March 29 2020
Here's my new painting. It's SpongeBob SquarePants I thought was cute to paint on my door 😁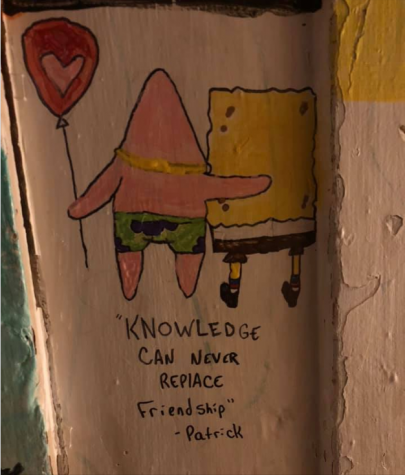 March 29 2020
Happy Sunday Morning! I wake up usually around 8 or 9 am. I go downstairs, go to the bathroom. Fresh in up, waking up my body. I get breakfast, sometimes a pop-tart or a bowl of cereal. I am starting to teach myself how to make a homemade breakfast. On the first day of my long break, I made homemade waffles. Then, I believe last Monday I made french toast waffles. Something easy that won't burn the house down. Give me some other breakfast ideas I can make easily.
March 28 2020
Anyone who is on here is allowed to talk about their experience and anything they struggling with during this time. Yes I made this for my blog but I believe that everyone should be heard and maybe someday this blog will teach the future generations on what we gone through. That being outside is wonderful. Going to work is awesome. Learning at school should be a great experience because anything could happen. During this experience, it taught how important the smalls things are and how much they really mean to me.
March 28 2020
Here are some paintings I have been doing.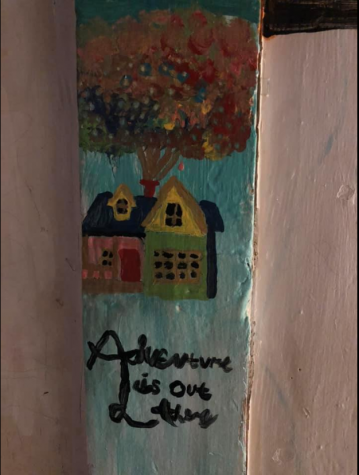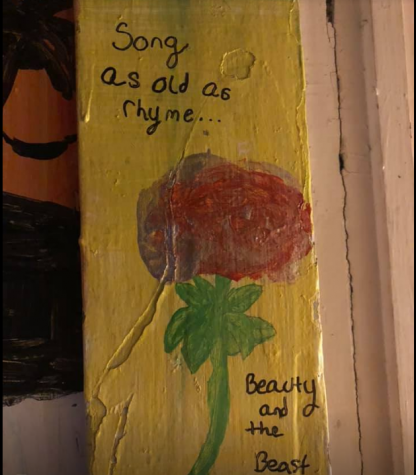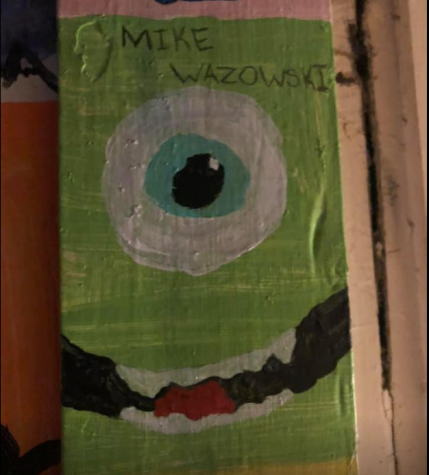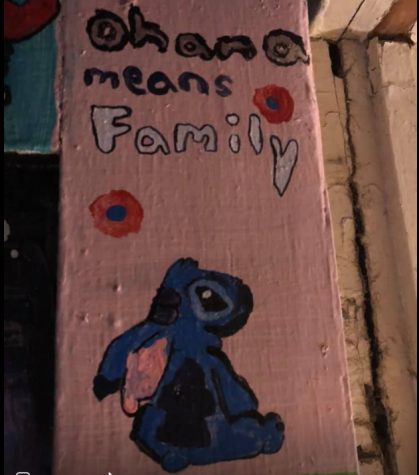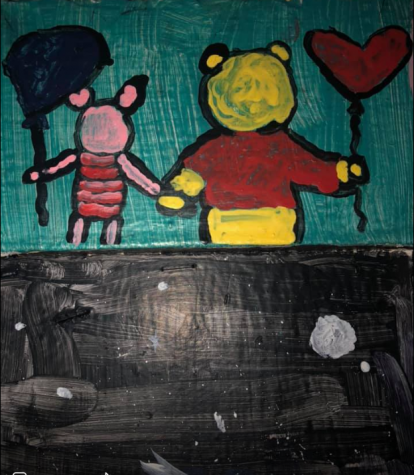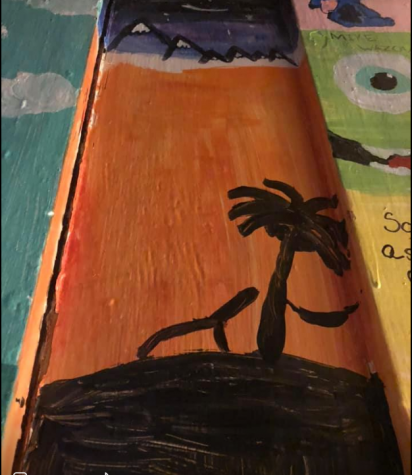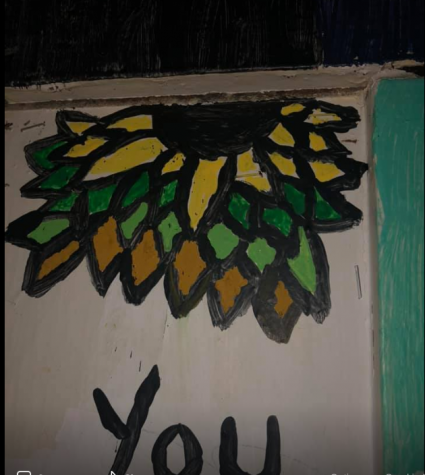 March 28 2020
This is my blog about my experience during this time. During this time, it's a struggle not going anywhere and not seeing friends, or even family. But the only thing keeping me sane is being positive, keeping myself busy and doing things that I thought I would never have time for. I will be posting pictures of my art project I've been doing since the beginning of this experience. Prayers for the families who are struggling more than me right now.