Ariana Grande's new album, 'Thank U, Next': something you couldn't 'Imagine'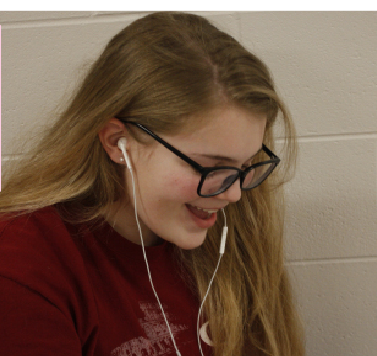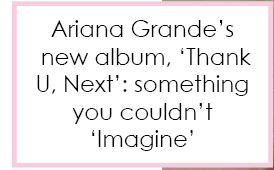 You may know Ariana Grande from her past songs "Dangerous Woman" or "Side To Side." Maybe you know her from the Nickelodeon show "Victorious." The past few years, Grande has rocketed in fame for her music. Her new album "Thank U, Next" blew up the charts, having the most iTunes downloads in 5 minutes.
According to Billboard, "Thank U, Next" scored the highest global debut for any female artist in any genre ever on Apple Music within the first 24 hours of the album's release.
The album talks all about relationship struggles and breakups. In Grande's "Thank U, Next" she thanked her exes for shaping her into the confident, self-loving  person she is today.
The 12 song album opens up with "Imagine." The song smoothly comes in with Grande imagining her perfect relationship and the world they would live in.
"Imagine" put on a flirtatious mood for the whole album. "Imagine" really foreshadows that the collection will continue on about relationship high and lows.
The song "break up with your girlfriend, i'm bored" transmits a rebellious feeling. It really radiates a confident feeling. The piece is about stealing someone's boyfriend and trying to convince him to leave his current girlfriend.
The album released on February 8 and included romantic songs which was perfect for Valentine's Day. Even if listeners were single and had an anti-Valentine's Day vibe, the track includes songs to appeal to people who are revengeful and recovering from a bad relationship.
My favorite song on the album, "bad idea" dispenses a nostalgic, retro vibes. The vocals sounds like music from 2010 but the background music is more modern.
The album doesn't flow all together from title to title; another mood appears for every song. At first, it is kind of I want to be loved and I want something serious, but as it goes throughout, it's more I'm here for a good time, not a long time.
"Bloodline" is all about a one night stand. Grande basically describes in the song that she just wants a hookup and nothing serious. The song really gives scandalous, shocking type vibes.
The most personal song on the album would be "ghostin." Fans believe that the lyrics are about mourning her ex's, Mac Miller's, death while in a relationship with Pete Davidson.
One of the lyrics is, "I know that it breaks your heart when I cry over him," which seems very personal it was really bold of her to put in the song.
Since she's all over the media, most of the world knows her name and the drama associated with it. So, if fans know her exes, they know that this song is about Pete Davidson, her ex-fiance.
The most popular song, "Thank U, Next," earned 55.4 million YouTube views in the first 24 hours, which set the record, beating the K-Pop group, BTS.
"Thank U, Next" feels like one of the most powerful songs in the album. Grande really shows how she evolved as a person and how she shaped up to be better in relationships because of her past ones.
Prior to "Thank U, Next," Grande released her album "Sweetner" in August 2018. She has won 94 awards, like Billboard's Woman of the Year and was nominated for 188 awards. Her hard work has paid off and this album has been her best so far.
I give this album a 9/10 because every song is really good and gives a mix of scandalous and affectionate feelings. I just think the placing of the songs could be different so it would flow a bit better.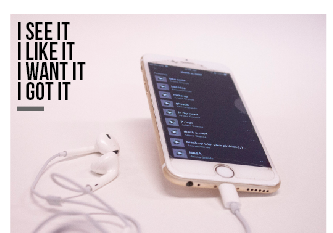 Leave a Comment