For the love of humanity
Students need art and humanities classes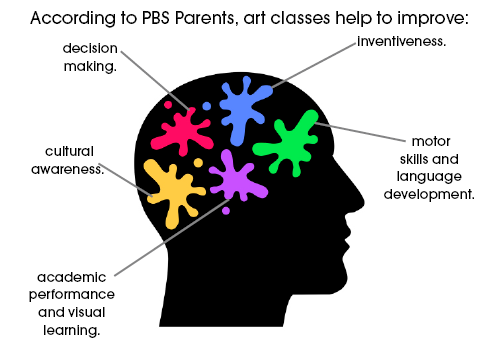 Hang on for a minute...we're trying to find some more stories you might like.
As children in elementary school, we would sit on the floor of the music classroom and practice different nursery rhymes on our recorders until we could perform them perfectly for the music teacher. We would listen to our art teacher's instructions intently, learning how to create small sculptures and paintings that we were excited to have displayed at the school.
Such pursuits are joys of the past for most students. Trying to take an art, music or another humanities class that is not required can easily turn into a hassle because these courses are difficult to fit into schedules and labeled as less important than core classes.
However, these programs hold crucial benefits for students and should not just be a fleeting memory from childhood.
PBS Parents, the parent's window of PBS Kids, reports that practicing art and music helps to develop motor skills, decision making, language skills, visual learning, inventiveness, cultural awareness, spatial temporal skills and improves academic performance and test scores.
Despite these benefits, the arts are frequently pushed to the side and deemed unimportant. Students are told by their families and teachers that art and music is a nice hobby, but not something to pursue. They are told that being passionate about art, music and other humanities is a waste of time because it is a risky field of work and does not guarantee high pay. It is wrong that students are directed away from their passion just because of the reliability and pay. Students who have a passion for something in the humanities should be encouraged to pursue them to the extent they desire because they are not failing fields like people assume.
There are many jobs for art majors and for other creative thinkers that would allow these students to follow their passions while also being reliable and paying well.
According to PayScale's 2016-2017 college salary report, the 10 most common jobs for art majors have a mid career pay upwards of $91,000, a suitable annual wage to own a home and raise a family.
Instead, the focus is put on science, technology, engineering and mathematics programs, usually addressed as STEM. Students are pushed towards STEM classes because jobs within STEM fields are often seen as the careers of the future because of their high demand and high pay.
However, the United States Department of Labor reports that the demand for STEM workers actually depends on how and where one looks. In the academic job market there are signs of a surplus of Ph.D.s in tenure-track faculty positions in biomedical sciences and physical sciences, but in the government related job sector there is a shortage of Ph.D.s in nuclear engineering, materials science and thermohydraulic engineering.
Students trying to discover their career path in high school are being pushed toward STEM fields for superficial reasons. Students should not be pressured to pursue career paths that they are not interested in just to fill a demand that only exists in certain areas and because of the high pay these jobs offer.
Within the past year, there has been a larger push to incorporate art and design into the already standing STEM programs, making them into STEAM. Incorporating art and design into STEM allows students to pursue STEM careers while keeping the certain aspects of the arts.
Adding art and design into STEM helps to fuel and develop creativity by incorporating creative thinking and visual learning into the classroom; thus, helping students to be more innovative. Including art and design will help interest more children in STEM or STEAM fields while also keeping their passions alive.